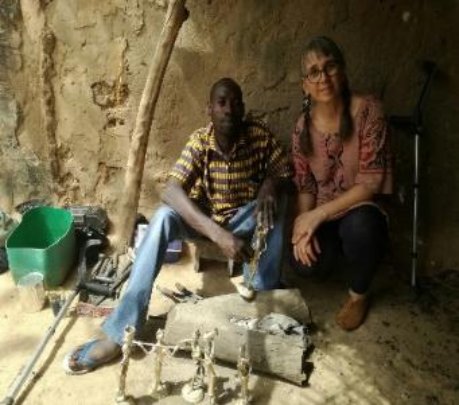 1) Monitoring and Evaluation of Microprojects
Three members of TN benefited from micro projects at the end of 2015 set up by the ONG Fauteuils Roulants au Sud (Wheelchairs in the South formerly Handicap Solidaire Suisse). Two members of TN accompanied Madeleine Meroz, the person in charge of evaluating these projects, to visit the beneficiaries. She was happy with the results.
2) Extraordinary General Meeting
On the 8th of April TN called an EGM to inform its members of its activities and to renew the office membership. Over half of current members were present. The meeting was chaired by a council member of the National Federation of Artisans of Burkina Faso.
The office committee renewed their membership positions : leather craftsman Abas as President, Evariste, children's toy maker, Vice President, Issouf, printmaker, the general secretary. His deputy is catering specialist Clementine, the treasurer is clothes designer Leonie and her deputy is clothes designer Irene. Jewellery designer Rasmata is the secretary and her deputy is keyring-maker Seni.
Mme Zoénabou remains the TN's co-ordinator and doll maker Cécile is council member.
Present members at the meeting appreciated positively the activities led by TN.
The status of TN and its rules and regulations were formally approved.
3) Fundraising
We are still waiting for the decision of the state regarding the purchase of our plot of land.
4) Partnerships
TN sent a partnership request to the Burkinabé Association of Fundraising.
5) Projects :
The first aim of a human being is to be in good health before embarking on any activity. The health of all members of TN is very important which is why TN wants to lead activities in the fight against HIV and AIDS and other STIs in order to achieve TN's goals.
TN has developed a project to fight against HIV, AIDS and STIs for the benefit of its members, which it submitted to the National Council against HIV, AIDS and STIs on the 28th April.
The project focuses on 3 main areas but TN will intervene in areas 1 and 3 which are:
Prevention of the transmission of HIV and AIDS
3. Governance, financing of the response and management of strategic information on HIV/ AIDS and STIs. The total budget for this project is 4 393 200 CFA / £5758
We have our fingers crossed that it will work.
5.2
We are collaborating on a project with an organisation in the UK to help sell our crafts.
6 ) Sales
6.1 Crafts
In Burkina Faso, total sales for this period are 172 085 CFA / £226. 20% for TN: 34417 CFA/ £45 and £180 for the artisans concerned.
6.2 Catering Service
We have fulfilled two orders for the catering service: one for the Burkinabé Association of Fundraising serving 8 people totalling 24 000 F CFA/ £31 with a profit of 7000 F CFA/ £9.
The second booking was for a 'pause café' for the Ministry of Women, National Solidarity and Family. This was for 140 people totalling 350 000 F CFA/ £459 with a profit of 73 500 F CFA/ £96.
6.3 Cereal Sales
Of the 50 sacks of corn bought, we have sold 15 at 225000 F CFA/ £295. The purchase price was 202500/ £265 so we made a 22500 F CFA/ £30 profit.
We sold one sack of cornflour at 20600 / £ 27 giving a profit of 3000 F CFA/ £4.
7 Hiring out of equipment
Total profit for the rental of chairs and marquee was 15000 F CFA/ £20.
8) Publicising Services
We created 12 leaflets publicising the various services we offer and we delivered them to different ministries and NGOs.
Conclusion
Overall sales are insufficient. After having paid the members for sales and services, profits are put towards the running of the organisation.
Despite poor revenue overall, some members testify to the positive impact that TN has for them.
Rasmata has been able to pay for her daughter Rachidatou 's school fees this year.
The three beneficiaries of micro projects, including bronze craftsman Issouf, testify that with the micro projects their smallholdings are prospering as well as their craft activities. They are able to support their own needs and those of their families.
Overall, the activities carried out have had a positive impact on TN.
We thank everyone: the members, the partners, the donors, our clients, our ex team leaders, the neighbours of TN, all of whom have contributed to the benefit of Tigoung Nonma.