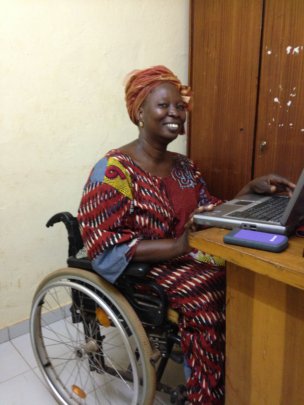 While Zoénabou and the TN leadership have been working on the co-operative's 3 year plan in Ouagadougou, much work is being done from within the UK to help Tigoung Nonma achieve the goal of having its own headquarters.
Fundraising
Since March 2015, UK based Tigoung Nonma volunteers have wanted to organise a fundraiser for Tigoung Nonma's Build-a-Workshop project, located on the Global-Giving website. In 2015 we learnt that in order to fundraise effectively we needed to engage with a more ambitious set of fundraising activities to elevate the importance of Tigoung Nonma's project in potential donors eyes.
Last year, former TN volunteers reached out to their individual networks via e-mail, telephone and social media in attempts to generate donations for the project. We found it challenging to generate interest in the UK through solely through telephone and digital. We recognise that the adverse economic climate and people's empty purses were a restraining factor. But we also believe that the lack of awareness about the barriers that physically disabled people face in Burkina Faso was an even more contstraining factor.
Since Christmas, we have focussed on organising a local Black Tie event to increase funding. We are hiring an affordable memorial hall on April 30th 2016 and a local restaurant is providing a meal, including vegetarian and vegan options! Decoration will be black, silver and white with a sprinkling of fairy lights. An accomplished designer has created the invitations and we have got some great raffle prizes lined up as well as a brilliant Leeds based disc jockey, known locally as DJ Sandy. During the evening there will be a presentation about Tigoung Nonma and our project on Global Giving. We will also have a small, but unique, collection of Tigoung Nonma crafts to sell. Furthermore, two UK based artists are creating works to sell. We hope that the Black Tie event will be a grand success.
Networking
On February 17th 2016, former TN volunteers attended GlobalGiving UK's Annual General Meeting. It was a great learning experience. The focus of the AGM event was 'Democratising Aid and Philanthropy. Two important questions were addressed at the gathering: 'Is this possible' and 'How can we make giving more effective and transparent?' Learning from people who are active in making changes on a community and global level at GlobalGiving UK was not just informative, but inspiring!
Strategies to alleviate donor fatigue were outlined. Project leaders were encouraged to gain the confidence of donors by clearly showing how their projects use time and money effectively and by giving consistent feedback on their works and achievements. Confidence + Efficiency + Feedback = IMPACT!
Having previously volunteered in the UK offices of GlobalGiving, it was humbling and exciting to hear about all of the success stories that this small team of 6 workers has facilitated. Hearing from well-established project leaders on Global-Giving was important as it gave us a better understanding of the networking tools and professional corporate knowledge that are available. From this we gained further appreciation for the role that peer learning can play in achieving success. Interestingly, this is an ethos which is fundamental to the way in which Tigoung Nonma works.
Sales
During 2015, we at Tigoung Nonma reflected on the possibility of doing an Art Auction in the UK of Tigoung Nonma objects as a way to substantially increase the income of some of our artisans. We considered the possibility of doing this at both a community and commercial level. After making contact with a UK-based auctioneer, based at a prestigious auctioning house, we learnt that this would be difficult to achieve in the way we had hoped.
This month saw an increase in UK sales. A beautiful black and white beaded necklace was sold to a UK buyer which was wrapped in African graphic printed 'pagne' (cotton) with a gift of a small shell to accompany it. The buyer was sent information about Tigoung Nonma. The buyer gave very positive feedback about the necklace and we were pleased that awareness was raised in the UK about the importance of Tigoung Nonma artisanal work.
Due to the political situation in Burkina Faso and the consequent decline in tourist traffic, January and February sales in Burkina Faso are low, when compared to figures from the same peroid last year. Total income from craft sales, equipment hire (tables, chairs and speakers) and the catering service was 519050 CFA (Central African Franc). Total expenditure was 400740 CFA and net profit was 118310 CFA. In January 2016, 53 artisanal products were sold and 14 were sold in February, including 1 sale from the UK. From the sales information gathered, we have found that Tigoung Nonma customers are interested in buying a variety of products: keyrings, purses and children's toys for example. However, jewellery remains the most popular product.


Meetings
Tigoung Nonma leadership have been struggling against issues of accessibility, poverty and politically induced curfews when trying to organise their general meetings with members. However, we hope that as the situation ameliorates, it will become easier for Tigoung Nonma to assemble in one place.