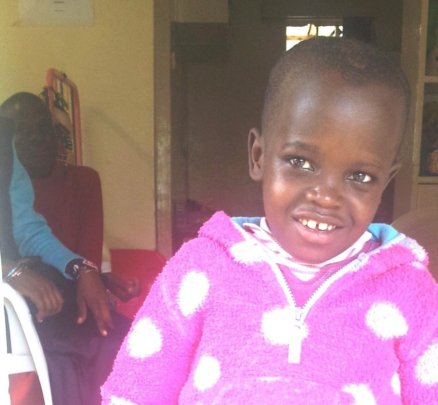 Last year in 2014, Grace, who is 8 years old and living positively, was recruited into our programme when she was 8 years old. Grace comes from Mpiro in Kajiado County and she is an orphan who lives with her grandmother.
Grace was weak and frail weighing 22 pounds, half the weight she should be. She could hardly walk.
When the staff visited Grace's home, they were warmly received by her grandmother. There weren't many other people in the homestead apart from two of Grace's two cousins, otherwise the homestead looked deserted.
Because Nenkashe is not equipped to care for children living positively, we found a partner who specializes in the care of HIV and AIDS affected children to help Grace grow positively.
The social worker from Nyumbani Children's Home initially declined to enrol Grace into their programme. She was afraid she would not make it and suggested that we just take her to the hospital. But after our persistent requests, Nyumbani Children's Home finally took Grace into their care.
That was where Grace's transformation begins. Within the first 6 months under the care of Nyumbani Children's Home, Grace gained 13.2 pounds. She successfully completed treatment for tuberculosis this year.
Today, Grace is 45 pounds. She is a much happier child who loves to sing and likes to play with other children. She is growing positively and because of your support, she can dance and smile again, and she can look forward to a decent future ahead of her.
Thank you for supporting Grace.