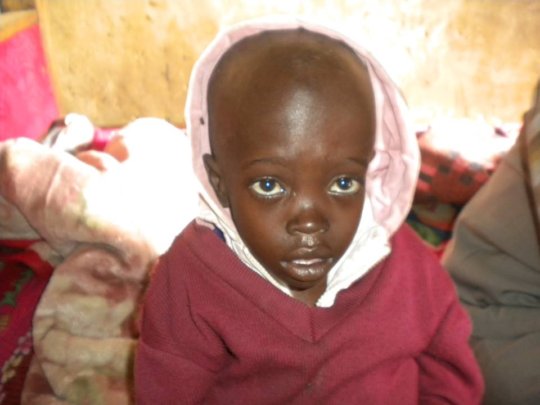 This is to thank all the donors, sponsors, friends and partners for supporting and educating 39 girls and 3 boys in the 2014 through Nenkashe Education Centre. Your gifts have paid school fees including the children's upkeep in form of school shopping (toiletry, sanitary towels, books etc.) and accommodation during school holidays for those who cannot always go home due to poverty or due to hostile circumstances in their homes.

Twenty four (24) of the children are in primary school spread out in 4 different schools in Kenya. Eleven (11) are in 6 different secondary schools and 2 are in two different children's homes.

Little Nempiris who was admitted to Nyumbani Children's Home, a facility for HIV and AIDs affected children, is doing very well. At the age of 8 years when we got her she weighed 10 kilograms (22 pounds) and six months later with the support and care from Nyumbani, she now weighs 16 kilograms (35.2 pounds). She is happier child and responding very well to her new environment at Nyumbani.

The last two terms have ended with the children being happy in school without any complaints or complications.
Nine children stayed at the holiday home during the August 2014 holiday. They had a good time and the holiday 'home' has proved to be a big success. The children are happy and so are the Nenkashe members as they know that the children are in good hands.

Counseling of the girls during the school term has been carried out successfully. Nenkashe carries out counseling sessions because it helps the children to better cope with life's challenges and improves their self esteem.

Reconciliatory visits have been carried out in four (4) different homes during this month of December 2014. One of the homes was visited for the 1st time to find out about the family situation of a girl that had been abandoned at the Africa Inland Church (AIC) school for four years. The AIC school approached the NEC organization to ask whether we could take on the girl as she had been brought to the school after being rescued from female genital mutilation. No one had visited her or gotten in touch with the school to inquire about her in the last four years. Nenkashe sought and found the child's family and visited them.

The girl, whose name is Nasieku, is 15 years old. She has a blind and poverty stricken mother. She also has an older brother who is in secondary school and a stepbrother who is employed and has been paying school fees for the brother. The stepbrother assured us that he will take on the responsibility of Nasieku and that she will be staying with his family. He has a wife and four children all under the age of 7 years. Nasieku informed us that she is happy there. The mother lives within a half hour's walk from where Nasieku will be staying. She is one of the girls selected to visit Denmark in April, 2015. We thank Nenkashe Support Group in Denmark for their remarkable achievement of getting funds to have two girls visit Denmark to talk about the plight of a Maasai girl. Two girls have been selected and are in the process of applying for travel documents.

Reconciliatory visits to the parents have failed to produce positive results in the case of the 9 year old that underwent FGM and from early marriage to a 35 year old man two (2) years ago. The parents albeit friendly when visited fail to show interest in their daughter. The child, however, is happy in school with new friends and catching up with school work.

The new constitution of Kenya specifically forbids and criminalizes FGM and early marriages. The Kajiado County government is proactive in raising awareness about the consequences of these harmful practices. The government has established an independent board called "The Anti FGM Board". There is therefore good political will in the country to end these harmful practices against the girl child.

The Nenkashe thanks each one of you for your support throughout 2014. We are looking forward to your continued partnership in the year 2015.

Thank you!