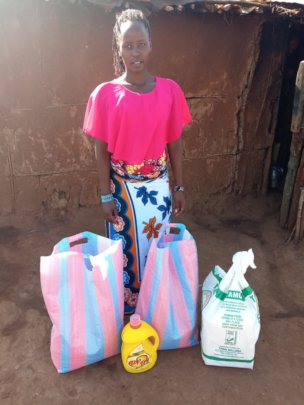 Kajiado County so far has 92 of 2,900 confirmed cases of COVID 19 in Kenya, but we thank God that we and our children are still safe. Schools closed and the curfew & lockdown imposed by the government has affected learning for our children and made access to essential goods difficult.
Because we care for the poorest and the most disadvantaged children, the only way we could help them access education at home is through radio while the children of rich families continued schooling through virtual internet platforms and television sets. Fortunately, the education ministry has made radio lessons available in all subjects, at all levels, therefore our main task was to get in touch with all our children through their parents and guardians and encourage them to tune in and continue learning through radio while at home.
Curfew and lockdown has also made travel and access to markets for essential goods a challenge especially for poor families. Donations from GlobalGiving and friends of Nenkashe have helped us allocate USD 530 to purchase food and deliver to the doorstep of our 11 most vulnerable children and their families.
We were able to purchase 60 packets of maize flour, 140 kilograms of maize, 140 kilograms of beans, 42 litres of cooking oil, 10 litres of hand wash and 10 jars of Vaseline for our most vulnerable children and their families. Unfortunately, we left out our other 20 families because we could not afford to buy enough food supplies.
During the visit to the families for food distribution, we had an opportunity to explain to them the symptoms of COVID 19, the importance of not touching your mouth, eyes and nose with unwashed hands, the need to wash your hands regularly with soap and the necessity to maintain social distancing.
Our urgent need right now is to acquire additional food supplies for distribution to the families of our most vulnerable children. We request you, as our sponsors, to make contributions for food purchases to Nenkashe Education Centre through GlobalGiving so that we can purchase additional food supplies.
The need for emergency food supplies real will continue into the next few months or maybe more as the national infections from the pandemic continue to increase and have not yet peaked. Your contribution would help us reach out to our other 20 families which we could not deliver food rations to because we didn't have enough funds.
I do thank you, however, for your contributions which have enabled us to reach out to our most needy families. Lastly, I am praying that we all stay safe and healthy through this difficult time.
Best regards, Leo