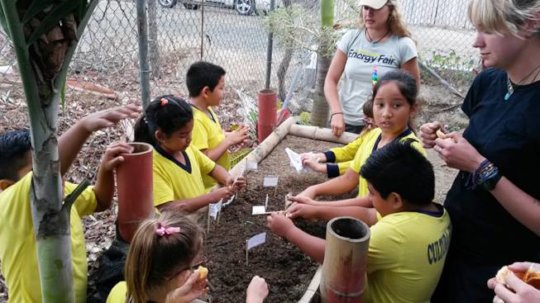 Project Report: Create Environmental Education Program in Ecuador
First off, we want to thank you so much for contributing to the first-ever project to bring hands-on environmental education and experiences to Canoa's schoolchildren. We are excited to get started in the upcoming school year, which starts in April.
At the time of our Environmental Education fundraiser, we were finishing up classes for the 2018-2019 school year. At the moment, the students are on vacation, but our teachers and administrative staff are still hard at work preparing for next year.
The Environmental Education Program
In order to provide the best possible programming for our students, we decided to go to the experts: The San Francisco-based Planet Drum Foundation. Directed by Clay Plager-Unger, and operating out of the nearby city of Bahia de Caraquez, the foundation is dedicated to environmental education and tree-planting projects throughout the region. Through this alliance we will learn from Planet Drum's 40 years of experience how to plan a well-developed and thought-provoking environmental education program.
Transportation
As Ecuadorian education laws are constantly changing, we may be obligated to rent a local bus instead of using public transportation for our excursions. This will require some changes to our budget. We will probably reduce the number of outings and combine experiences that happen near each other. For example, visiting the Rio Muchacho waterfall and planting trees at Finca Caracol are just within a few kilometers of each other. We will also adjust some of our original plans to accommodate recommendations from Planet Drum. For example, in addition to visiting the Cerro Seco nature reserve in Bahia, we will also visit the Planet Drum Tree Nursery and learn about their foundation and operations. The 2019-2020 school year begins April 22ndso it is likely that our first excursion will be in June or July. Stay posted!
Back to School Fundraiser!
As the first day of classes approaches we will need many supplies including chairs, tables, books, floor fans, glass windows in the library, and much more. Please consider learning more about this important fundraiser here on GlobalGiving at https://globalgiving.org/projects/help-120-rural-students-go-back-to-school
As always, thank you so much for your continued support! Because of big hearts like yours, we are able to provide a more personalized and modernized education to over 120 rural students in Ecuador!!! Thank you!!!!