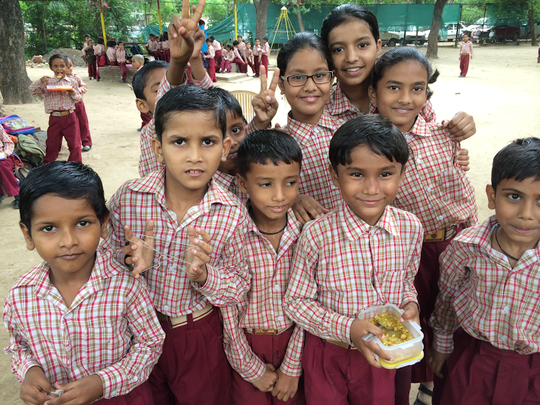 About Us
VIDYA Integrated development for Youth and Adults (VIDYA) is a non-profit organization that specializes in the education and empowerment of underprivileged children, youth and women through intervention at the individual level. Our nationally-recognized program includes schools, remedial education, computer training, adult literacy, skill training, microfinance and social entrepreneurship, in some of the poorest neighborhoods of Delhi, Haryana, Mumbai and Bangalore. Our team of about 350 people includes local and foreign volunteers, teachers and staffs and a large circle of committed friends, donors and well-wishers. More than 2,75,000 people across 20 rehabilitated slums in Delhi, Mumbai and Bangalore have benefitted from our program. Sponsors are from across India, the US and Europe, some providing constant support to us, and over 5,500 volunteers have worked with us over the years. VIDYA was founded on 1985 by Rashmi Misra and is supported by donors and well- wishers.
There are two broad areas of VIDYA activities- holistic education and community empowerment programs. 15,000 children and adults are involved.
Projects in Delhi
The VIDYA School
The VIDYA School in Gurgaon is a school with a difference. Set in the prime area of DLF Phase 3, Gurgaon, which boasts of elitist schools and is home to eminent people of society ,our school, paradoxically, is located bang in the middle of two of the largest slum settlements of the area. So on one side, we are flanked by the urban rich where the privileged children have access to the best of schools, whereas on three sides we have settlements of the rag -pickers, laborers, cleaners, in other words people who live far below the subsistence level and for whom life is all about struggling to survive. The children who come into our fold come from marginalized society and VIDYA School's vision is to provide them a place for excellence in academics and all-round development, a stimulating learning environment where they will be nurtured through their own stages of self-discovery, giving them skills they need, along with building self-esteem and positive feelings, thus educating these children for dignity and better quality of life.
The VIDYA School has received recognition from the Directorate of Education, Haryana Government and affiliation with the Central Board of Secondary Education(CBSE), New Delhi.
Bal Vihar School
Bal Vihar is the foundation of VIDYA's education program. Born in the IIT Delhi campus, it has educated more than 12,000 children in the last 30 years, empowering the marginalized families of South Delhi.The objective is to provide the children an outstanding English medium academic and creative education.
Bal Vihar is a well structured programme catering to children with age group 3+ to 12+. The strategies are designed to create a stimulating learning environment where students are nurtured along with building self esteem and positive feeling.
Munirka Community Project
Munirka Community Project is one of the first projects started by VIDYA. This project has been changing lives for almost 30 years and offers many life changing opportunities, focusing primarily on education and community welfare programs. First generation learners from this migratory slum community are provided non-formal and remedial education. Non-formal education, for pre-nursery (age 1.5-3) through standard X students, is an important component of this project and caters to the non-school going children to prepare them to be mainstreamed into the formal public school system. This project also offers remedial education for students in standard I-VIII that are attending public schools but need additional support to improve their academic performance in core subjects.
Pappankalan Community Project
In 1997, VIDYA initiated an informal education program in the community of Pappankalan to help mainstream children back to school Families living in this community were resettled to their current location in 1997 so that urban construction could commence on their former land. With few resources and little help from anyone, VIDYA stepped in to help this disoriented community. Since 1997 this project has offered an array of programs to this displaced slum community. Students in standard I-VIII that are attending public schools, but need additional support to improve their academic performance in core subjects, attend this remedial education program.
Bridge Course Project
The Bridge Course, Sainik Farms was established in 1999 and Bridge Course, Okhla was established in 2004 in partnership with the Rotary Club.
The Bridge Course Projects, in partnership with the National Institute of Open Schooling (NIOS) program, allow youth that have dropped out of school to enroll in classes and are given a second chance at completing high school. In India, major exams are given for the standard X and XII boards and clearing these two boards is required to obtain high school education. To date, 2,500 students have gone through these projects and all have successfully passed their exams. Besides core classes to prepare for the exams, students participate in extracurricular activities of sports, dance, drama, computer basics, English speaking and other awareness programs. Students are provided guidance in their career development through admissions in vocational training programs, such as hospitality and retail, which lead to many getting jobs. Students gain a sense of self worth,confidence , and a spirit of empowerment to better their lives. Students from this program are also mentored by employees from various corporate houses.
IIT Project
The Indian Institute of Technology (IIT), Delhi was the location of the first programs offered by VIDYA almost thirty years ago. Today, in partnershipwith National Social Service (NSS), women and children are being educated and empowered.VIDYA is honored to have a partnership with the IIT, Delhi, where it runs this project on its premises. Children from the surrounding slum communities are offered remedial education for standards I-VIII students that are attending public school but need additional support to improve their academic performance in core subjects, since they do not get that support at home or at their school.
Okhla Project
The Okhla Community Project began providing pivotal education to women and children in one of South Delhi's biggest industrial slums in 2004. First generation learners from this impoverished slum community are provided non-formal and remedial education. Remedial education for students in standard I-V that are attending public school but need additional support to improve their academic performance in core subjects. . In addition to academic classes, women from the community often attend the projects skills training classes in tailoring, health and beauty, English literacy and computer basics. The program also has a computer centre for the youth, a library and dance classes for young girls.
Impact and Plans
Our VIDYA School at Gurgaon, and the students—already highly driven and competent— are now truly poised to be the future leaders of India. The Bal Vihar and the Beyond School programs have brought quality education to children and reinvigorated a love for learning and achievement in the schools and communities we work with.
Our community programs have grown and seen immense success. Hundreds of women, children and youth have become empowered from our work, and we have learned many things from them in kind. We are already on a path to collectively bring in world class processes into our administration so that we can speed and scale our operations. Our presentations and conferences in the United States and Canada brought VIDYA into the international space, and won us many new friends and collaborators, all dedicated to social change and united in our mission.
This year, we are going to focus on achieving demonstrable and consistent results in women's and the girl child's empowerment, English proficiency and vocational and skill training for employability. Many less privileged youth are still not given adequate opportunities, exposure and guidance. India has a massive shortfall of several millions in the number of skilled professionals available for important vocations in major sectors like infrastructure, healthcare, construction, retail and many others. Jobs in these sectors can provide satisfaction, purpose and independence for the millions of men, women and youth in need of it. English proficiency significantly improves confidence and employability.
It is our duty to help and to prepare our students to be gainfully employable.
Beneficiaries:
Komal ( VIDYA School, Gurgaon)
Komal speaks outstanding English, excels in academics, and enthusiastically participates in dance, singing, sports, filmmaking and theatre. She is a gifted orator and has been awarded the general proficiency award several times. She has not missed a day of School, is highly disciplined, and cooks for her family and plays surrogate mom to her two siblings.
She is studying in the 9 standard and has been with us throughout her school years. Komal's father is a driver, her mother a homemaker, and they are both unlettered. She lives in a slum near the school. She would like to join the Indian Administrative Service and lead the change for a better India.
Her ever-smiling face reminds us of a quote,
"Some succeed because they are destined to but most succeed because they are determined to".
Komal Said: I liked English class very much. Before I joined, I did not understand English. Now I can understand and speak. I learnt how to make sentences and learnt new words. I can use them anywhere and anytime.
Maya and Sita( Bal Vihar School, Delhi)
Maya has now completed her graduation from MotiLal Nehru College and has joined B.Ed course. Sita is pursuing her graduation from Delhi University alongside working as an assistant Charted Accountant to gain experience, as she wants to become a Charted Accountant.
Not long ago, Dalvir Singh and Heera, the parents of four daughters, a cook. Unqualified and earning just enough to provide basic necessities to their family members, they were committed to empower their daughters. They went ahead to educate all four. The two elder daughters, Maya and Sita were admitted to Bal Vihar School. Amidst all odds of looking after younger sisters, helping in household work etc., the two girls enjoyed attending the school.
The girls realized their potential and started showing excellence in co-curricular as well as in academics. In 2003 and 2004, the two sisters passed out from Bal Vihar and joined Sarvodya School for middle and senior secondary education. They remembered their vow to overcome financial barriers. Both the sisters cleared their standard 12 in first division by maintaining balance between their household duties and pledge towards education.
Looking at success of these two daughters, the parents admitted their other two daughters in Bal Vihar as well. Now, all their four daughters are educated and are the pride of their family and Bal Vihar.
Rahul ( Community Programme, VIDYA Delhi)
Rahul, a former student of VIDYA Bal Vihar School. Multitalented, Rahul dances, paints and loves cooking.
Rahul has grown in harsh conditions. His father was a guard at a community washroom. With a sick sister and unemployed brothers, he hardly had any family support. Just before his class 11 exams, his father expired. His father's job has now been given to Rahul. Rahul is continuing his education, juggling between his dream, job and family commitments. Refusing to give in, Rahul continues to reach out to fulfill his dream- to be a world famous chef one day! He is preparing to study Hotel Management after school. VIDYA wishes you good luck!
Mandeep( Community Development programme, VIDYA Delhi)
Mandeep, 16, is a musical genius but considering the poor economic conditions of the family, music education was a luxury for him. Mandeep joined the musical classes organized by VIDYA for the community. His teacher says, "During the first few classes itself, I could see the spark of brilliance in the kid". When he joined, he lacked the confidence to perform in front of a crowd.
Mandeeps dedication encouraged many children to join the music course. He is now confident and has won many accolades in various competitions. During the summer break, VIDYA appointed him as a music teacher. He handled this responsibility perfectly and at the end of the course, his students presented a wonderful performance for the community. He has come a long way from being a shy boy to a much loved musician. He is currently learning computers at the Centre.
"VIDYA has completely changed the course of my life. My self-confidence has increased a lot since I joined and the guidance provided to me by the teachers at the Centre will always remain invaluable for me" adds Mandeep.
Himanshi( Community Development Programme, Delhi)
Himanshi works as a receptionist in the renowned Batra Hospital. She joined Bridge Course Program at Sainik Farms, Delhi in class 8 . Being a regular student, she went on to complete her board exams and graduated along with one year computer course. Her father runs the canteen of Rotary VIDYA Kendra. Himanshi is indeed a pride of VIDYA family.
Activity Report is attached( Monthly Newsletter)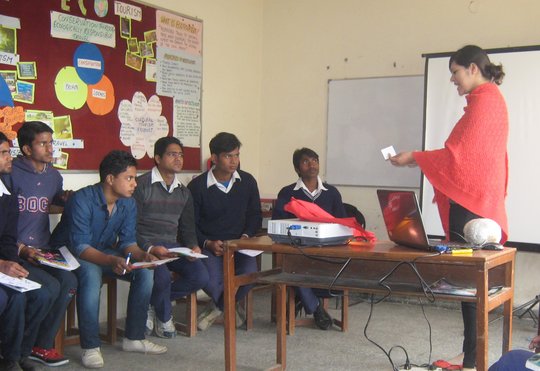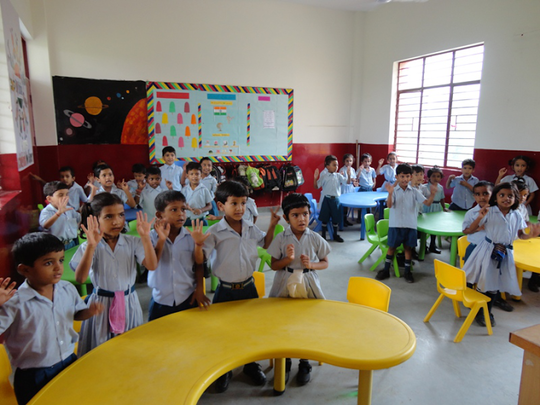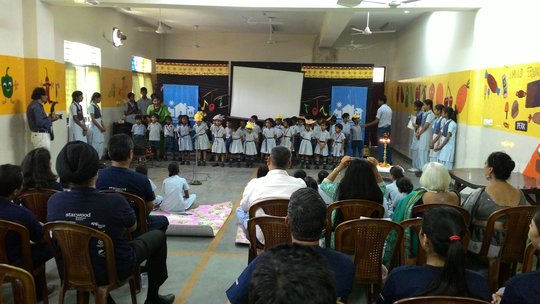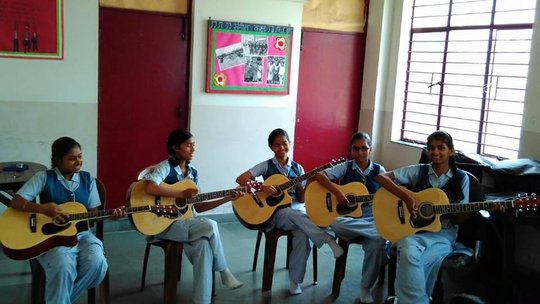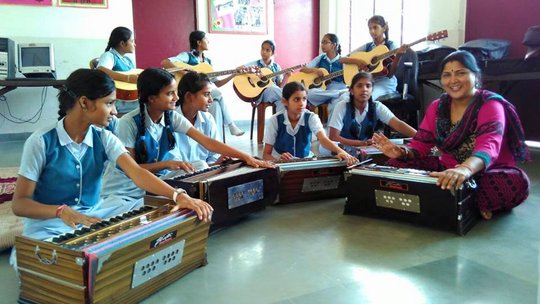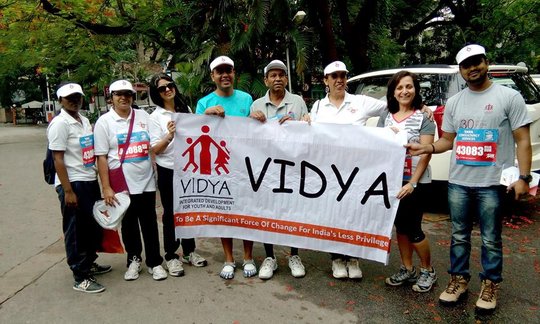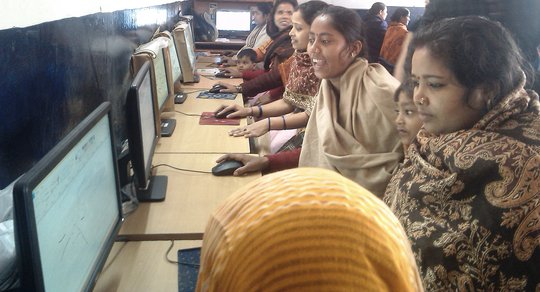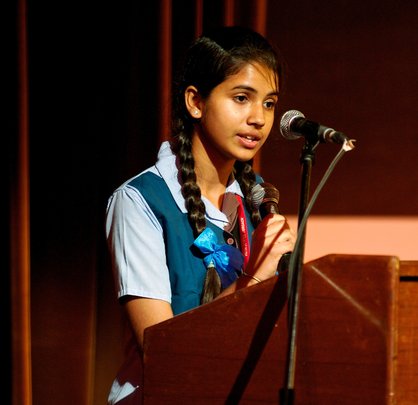 Attachments: