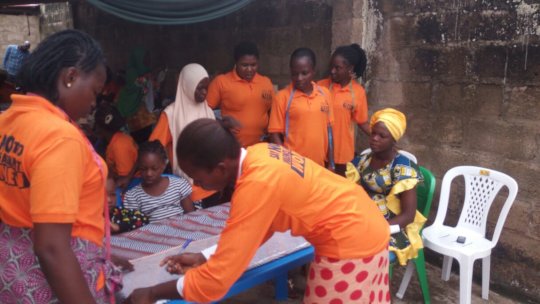 Very warm greetings from Women Inspiration Development Center and your project, which continuously striving to take homeless and disenfranchised young women away from the street to develop their agency, provide jobs for them or help them to further their education and economically equipped.
We would first of all like to thank from the bottom of our hearts all our donors who have donated as well as volunteered for Women Inspiration Development Center in the last 5 months that we joined GlobalGiving.

We are so excited to let you know that through your support, from September 11th , 2017 through January 11th, 2018, we have raised around $4,690 (1,407,000 Naira)
towards 4-day Agency empowerment Workshops for disenfranchised young women training of the young women in vocational skills and coaching for university admission.
37 young women have been recruited for 4-day Agency Empowerment Workshop which will be the first step before the vocational training. The agency empowerment Workshop is a game changer for women empowerment which is also called "IMAGINE I am I can https://www.youtube.com/watch?v=1rs24NPbmdI It empowers women in challenging life circumstances in developing world countries to envision and create new possibilities for their lives.
Through your donations 37 young women are engaged right now by Women Inspiration Development Center to stay off the street to maximize their God given potentials and therefore free from becoming single mothers, victims of human trafficking, victims of battering, died of quirk abortion or contacted HIV/AIDS.
At the end of this program, these young women would be free from absolute poverty and they will be equipped economically. By so doing, poverty would be on the decrease and violence against women would be minimized in Nigeria.
Therefore, for Women Inspiration Development Center to reach our target of taking 250 young women off the street this year 2018, we would like to encourage you to become our recurring monthly donors throughout the year. To donate please visit https://www.globalgiving.org/projects/empower-nigerian-young-women/
We still have a long way to go in our fundraising for this project. We therefore request for your continued supports, donations, volunteering and sharing us with your contacts to be able to raise the remaining $31,000 we need to complete this project.
In 2016 and 2017, WIDC worked with 430 women out of which 135 of them were facing violence, 73 of them was having health challenges and 310 was jobless. At the end of our program in December, 2017:
76 of the women facing violence are now having peace in their homes according to our survey
6 of the remaining women have taking steps to leave their unrepentant husbands and they now living in peace with their children
37 of the women with health challenges developed vision in the area of their health and they are improving greatly
250 out of the jobless women are now having a small business of their own through the small loans they were accessing through their table banking
4 of our women that developed vision further their studies are now attending weekend schools
We graduated and certified 30 women in December, 2016 and 40 women in December, 2017 on our Skill Acquisition training program.
" Operation Leave the Street" for the homeless and disenfranchised young women in Nigeria is our utmost priority so that Violence against Women would become history in our community.
Once again we are a saying a big thank you for what you have done for WIDC!
Warmest Regards




Links: