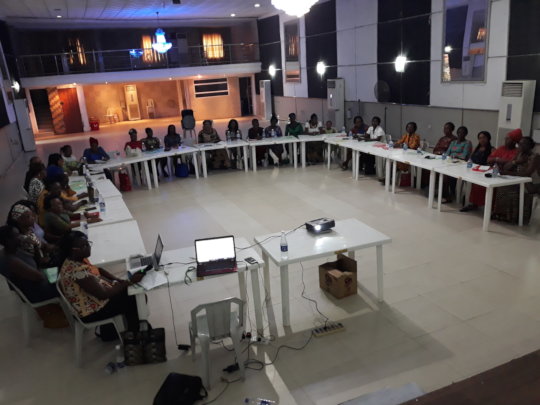 IMAGINE Empowerment Workshop is the Agency Based Empowerment Workshop that is the basis of our activities in Nigeria. Our team in Women inspiration Development Center with four certified Empowerment Workshop Trainers are all working so hard for the past 9 years to fulfill our dream of scaling the Imagine work in Nigeria. We have trained over 4,000 people translating to the direct impact of improving 95,000 peoples' lives, and close to one million people indirectly affected. Nigeria and Women Inspiration Development Center is part of the first Imagine Scaling Pilot where I have brought on four new NGOS for this pilot phase. The Empowerment Work continues to transform lives here in Nigeria in ways that I could not have believed possible.
We have started the scaling pilot of this Empowerment Workshop in October, 2018 by recruiting four new NGO with 8 representatives to be trained on how to give this workshop. When they are certified they will be giving this Empowerment Workshop to the populations they are working with. During the two phases of the training of this NGO, they will organize 8 Empowerment workshops of 30 participants each. By the end of the training after 18 months, these four NGOs would have empowered 1,920 translating to direct impact of about 47,000 people's lives and about 500,000 people indirectly affected.
The scaling process started with preliminary workshop with 10 NGO leaders follow by Empowerment Workshop organized for 40 widows and disenfranchised women in Lagos, Nigeria. The scaling pilot continues till March, 2020. We want to appreciate our donors that has been there for us all these while, we couldn't have achieved all these without your support. However we are still struggling for the fund to continue this amazing transformation in Nigeria. Poverty, Violence against women and culture of silence are reducing drastically as women and girls through this workshop identify ways they can create the lives they most wanted and the tools they need to use in achieving their formidable vision.
Here are some transformation stories of the participants at the workshop:
"My most important personal learning is realization that the power to create the kind of life l really want lies with me and with no one else and that I must not give this power to anyone. I must stand tall and love myself well enough to seek my personal happiness and fulfillment and I must not allow people's negative opinion to deter me. I leant to take responsibility for my life, for my happiness and my fulfillment. I learnt to responsibility for every area of my life." Says Anike (not her real name)
Another participants has this to say, "The empowerment workshop has broaden my horizon in the area of relationship; in the area of self esteem vis-a- vis in relationship with people; healthy nurturing of self in respect to self love which reflect my divine manifestation in life."
"One of the personal important thing l leant in the workshop is about loving myself dearly, l also leant that l am the architect of my life and that whatever l become is as a result of the value l place on myself " says by another participants.
Links: