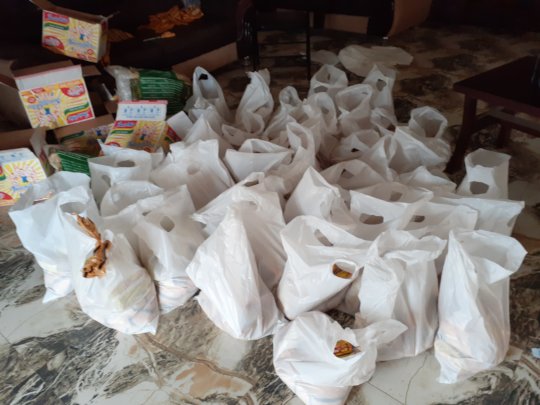 Humanity, for Months now, has been experiencing what we can say has never happened before. We have been in a state of shock and anxiety regarding the high level of uncertainty about human life and existence that is taking over. No one is sure of what could happen the next moment. This level of uncertainty is creating fear which is growing to a point of despair.
Coupled with these fears of hopelessness and safety is hunger that is killing now in Nigeria more than the virus as a result of the lockdown. Disenfranchised women and the homeless derived their meager income from daily paid jobs, petty trading and alms begging. The lockdown has made it impossible for the women to go about their daily paid job and petty trading and they are thereby left with nothing to take care of themselves and their children. As a result of this, hunger has killed more than COVID 19 in the slums and villages.
WIDC have been distributing food to women in the slums since the lock down started from little money we can gather from family and friends. We also hope to get more money to reach more families through our side project on this issue.
Links: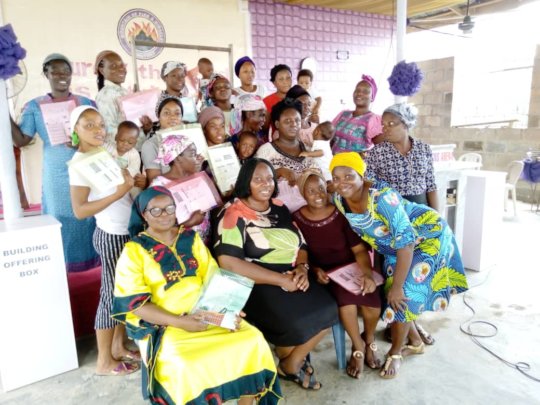 "If I have to tell someone about this workshop, I will tell them that I found a treasure. It is not a treasure of gold but a treasure of beliefs, mindset that when you find it, it is easy for you to find gold and to truly live the life of your dream" This is the testimony of Mariam one of widows that participated in our last workshop. The Agency Empowerment Workshop open the participants to opportunities through their explorations of their imaginations. It opens the eyes of the participants to many doors that are open to them that they were not aware of before. The participants after the workshop were ready to embrace change and the reality of the fact that they are now without their husbands and that life goes on.
A participant Ifeoma suddenly broke down in tears during the body lecture aspect of the workshop.She said since the passing of her husband, she feels really ugly, shapeless and not loved. She said formerly she used to shave the hairs underneath her armpits, but since her husband died, she stopped taking care of her body, she has not shaved her armpit in years, has not even bought new underwears, according to her, "who is she wearing it for".
But during the course of the workshop she realized that she needs to love herself and love her body for herself to feel good and not because of anybody.
Blessing is also one of the widows l believe demonstrated appreciable growth and transformation in the course of the workshop. She was used to nagging and complaining whenever things do not go well in her business. But in the course of the workshop, especially during the teaching on Core Beliefs, she saw the need to flow with change and have a positive attitude to life. This she put to practice immediately after the first day of the workshop. Interestingly, her positive and winsome attitude brought more customers to buy from her.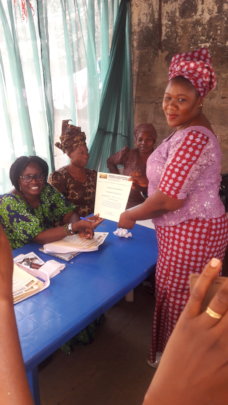 As the certification of trainees at Women Inspiration Development was drawing near WIDC initiated this project to provide sewing machines for the trainees as they are graduating. Unfortunately, we could not get enough donation till December 21st when the Certification took place. We could only raise 1% of the needed fund which was $15 out of $1,500 needed for the purchasing of the sewing machines.
When it was evident that the fund to buy the trainees sewing machine was not coming in, the management of Women Inspiration development Center decided that the trainees should be allowed to spend another 6 month at the center after their certification so that they can be making use of the sewing machines at the center for the first six months of their business. This is because all the trainees are disenfranchised women that could not afford to buy the equipment needed to start their business on their own.
We are hoping that these graduates would be able to raise enough capital to buy the equipment needed to start their small business within the six months of their staying back at the WIDC.
The trainees were so happy and grateful that the center did not just certified them and threw them back to the street.
We want to appreciate our single donor for this side project and those who might still be part of the project.
Thank you!
WARNING: Javascript is currently disabled or is not available in your browser. GlobalGiving makes extensive use of Javascript and will not function properly with Javascript disabled.
Please enable Javascript
and refresh this page.