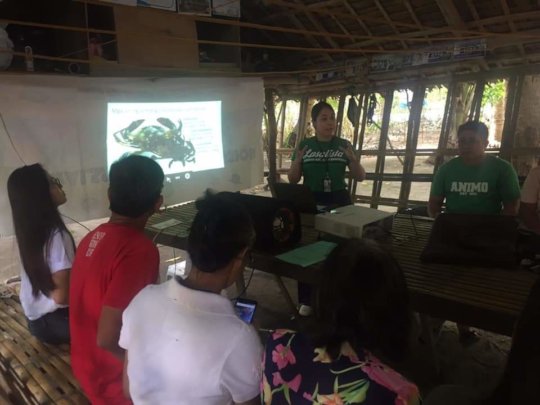 Talim bay's stakeholders continue to support and implement activities necessary to help maintain the bay's biodiversity and health by preserving areas declared as "marine protected." Also, Initiatives for other alternative sources of income for local fishers like community-based ecotourism, crab fattening, sea cucumber ranching, among others, for the local fishers are being explored to mitigate the adverse effect on the marine resource availability (which reduces the income of local fishers) due to over extraction of marine resources, pollution, destruction and bleaching of coral reef, among others. Thirty-eight (38) local fishers and/or their household members attended on December 9, 2019 a training-orientation on Mud Crab culture / fattening and Sea Cucumber Ranching. De La Salle University's (DLSU)-Center for Social Concern and Action (COSCA) has partnered with the team of Dr. Chona Abeledo, a faculty from the DLSU Biology Department and a member of DLSU's Practical Genomics Laboratory (PGL). PGL's goal is to help in the 'democratization of science and the development of practical technologies for the advancement of Philippine agriculture and fisheries.'
A Memorandum of Agreement was executed by official representatives from the Office of DLSU's Vice President for Lasallian Mission, DLSU-COSCA, Office of the Commission for Filipinos Overseas, Lian Fisher folk Association, Inc., Feed the Hungry, Inc. (FtH) and Feed the Hungry FA for the implementation of Mud Crab Fattening and Sea Cucumber Ranching. FtH has expressed willingness to provide funding for these livelihood projects in Lumaniag, Lian, Batangas.
Also, Talim bay's stakeholders continue the regular reef monitoring with the assistance of Ms. Sapugay and Mr. Quenamot, COSCA Specialists and Mr. Tadena, Program Coordinator and in coordination with LGU Lian's Municipal Environment and Natural Resources Officer, Mr. Jonson. The activity helps encourage local fishers and other members of the community to continue their efforts to protect the remaining pristine reefs and rehabilitate damaged reefs in Talim bay. A community-led reef check activity conducted on November 28, 2019 to December 1, 2019 undertaken in the marine protected areas of Sitio Kay Reyna, Lumaniag and Binubusan, both in the municipality of Lian, Batangas helped enhance the local fishers' capacity to monitor their marine ecosystem. both in the municipality of Lian, Batangas has enabled local fishers to observe any increase in fishery production and note the presence of marine life / type of fish in the area thus,
Moreover, members of LFA and other organizations of fishers in Talim bay such as the Barangay SAGIP Women's LOVE, and the Samahan ng Mandaragat sa Sulok Fisher folk Association participated in the December 15 and 16, 2019 team building activities facilitated by DLSU-COSCA.