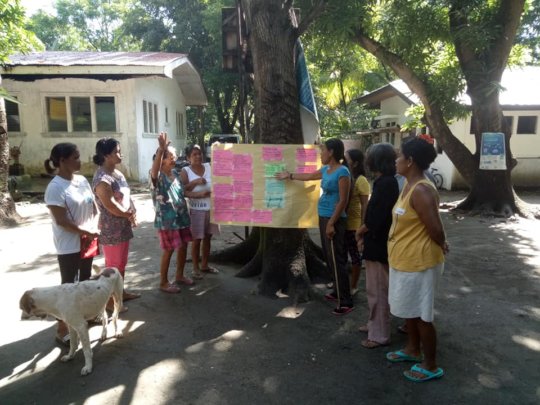 DLSU-COSCA expands implementation of the Lasallian Social Enterprise for Economic Development (LSEED) program with the series of workshop undertaken for another batch of members of partner community - based organizations in Metro Manila and in Lian, Batangas. LSEED attempts to develop more student "Champions" including those from the DLSU-Laguna Campus as strategy to support the development of social enterprise. Specifically. the program helps build the social entrepreneurship capacities of women and budding student social entrepreneurs.
COSCA engages participation of additional community partners for the its second batch of LSEED Social Enterprise Fellowship Program which will be implemented in partnership with the University Council of Student Organizations (CSOs). The L-SEED SE Bootcamp 2019 aims to enable partner communities and students create social enterprises that are relevant, sustainable and impact - driven.
For the targeted members of Lian Fisherfolk Association (LFA), local fishers participated in a community workshop dubbed "Capacity Building on Social Enterpreneurship Skills for LFA" held last September 2018 in Barangay Lumaniag, Lian, Batangas facilitated by LSEED team, in partnership with COSCA's Partnership and Network Development Program team. Approximately forty (40) local fishers and / or households of fishers were oriented on ways to nurture and manage their organization - sharing with them the knowledge on the following: social enterpreneurship, organizational development, conflict resolution/ management, social business canvass and design thinking. Also. they were oriented on various scenarios and were exposed in an actual pitching session as a strategy to assess their level of understanding on the topics and on the identified business models in area of eco - tourism.
The program continues to capacitate more community members to help them prepare themselves in their social enterpreneurship journey through the series of workshop introducing them the concepts of "social entrepreneurship in the Philippines, characteristics of SEs", and "responding to community problem/s, creating and developing the SE idea" and business incubation.
Members of partner organizations also participated in the LSEED Learning and Organizing Workshop held in Cavite, Philippines and attended by representatives from the academe.
Student Fellows and LSEED Community Core members for Fellowship Program Batch 2 actively participated in the Study Tour at Gawad Kalinga Enchanted Farm in Angat, Bulacan. The two-day exposure to various social enterprises, learning/content sessions, and teambuilding activities in Bulacan were jointly facilitated and hosted by the GK and LSEED Teams.