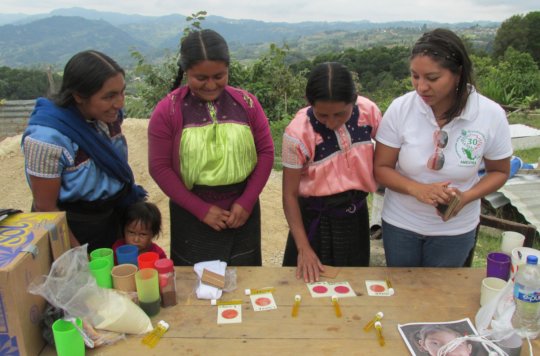 We wouldn´t be able to start 2020 completely without thanking you for your support of this project in 2019. Because of you and others like you, families of the rural communities in Los Altos, Chiapas, Mexico have an alternative to marginalization, and are producing their own foods, cooking with less wood (and therefore less smoke!) and changing their vision to realize they have skills and recources that can make their lives more abundant and make their community a better place.
In addition to thanking you for your support, we also want to keep you updated about the projects and the families. Without further ado, here are a few updates from Los Altos, Chiapas from December 2019 to February 2020:
Challenges and lessons learned in 2019 On December 13th, 17th and 19th in the communities Tzacucum, Namtic, Canech, Santa Cruz, Tabilhucum, and Aldama Centro in Chiapas, Mexico the final workshops of the year were held, in which 105 people participated. This last workshop of the year was aimed at summarizing the advances and achievements of each community group, as well as learning their dreams and challenges for 2020, in order to create a joint plan that will help us promote the holistic transformation of families in 2020.
Bacteriological Analysis Water is a basic resource, but it can also be a cause of illness, such as diarrhea, which is the main cause of morbidity and mortality globally among children. Because of this, in the communities Tzacucum, Xulumo, Tabilhucum and Santa Cruz, the workshop Bacteriological Analysis (led by the non-profit Agua Pura para el Pueblo) which allows us to test the microbiological characteristics of water (identify bacteria Escherichia Coli) was held for 24 people from the communities.
Lastly, as you may know, the women and children we work with through this nutrition project not only benefit through health and nutrition programs, but rather as part of Amextra´s holistic program in the region. For this reason, we want to share with you that in January of 2020 in the Aldama Centro communtiy 8 women attended a workshop for sewing on new fabric used for shirts, (called manta in spanish) learning about quality of materials, color combinations, and types of stitches, so that they can innovate in the making of local garments.
Each and every one of these acheivements is thanks to donors like you. We hope you feel a part of this change and know that you are a valued member of our community!
With gratitude,

Stephanie
Manager of Fundraising and Strategic Alliances
www.amextra.org