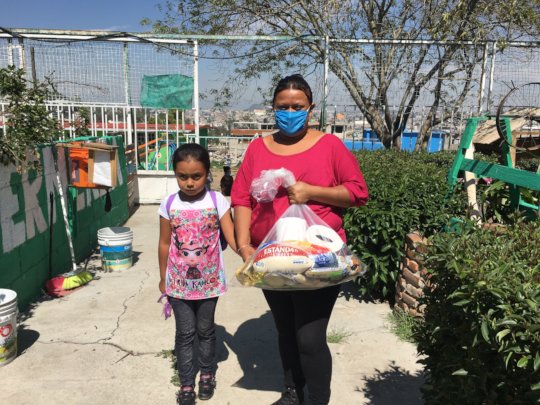 We´re coming up on the 6-month anniverssary of school closures for Covid-19 in Mexico, which became official on March 23, 2020. During this time the support Amextra provides has been more important than ever. Not only have we continued providing academic support, we have also distributed food and hygiene kits to more than 180 vulnerable families in Tultitlán (183, to be exact!).
The education coordinators that work with Amextra in Tultitlán have shown amazing creativity, flexibility and a spirit of service during these months, moving classes to the childrens houses (always in outdoor spaces like patios and following the Health Secretary recommendations for social distancing). Both the children and the teachers were masks and keep a safe distance away while they review important math and language topics.
At the same time, Julio, our phychologist, has been providing psychological accompaniment via the internet and WhatsApp; and the correct use of face masks, masks, glasses, hand washing, etc. is encouraged. Ruth, Jimena and Julio continue to work together on strategies for better teaching each child.
As the epidemiological "stop light" in Mexico advances (Tultitlán is currently in organge) we will be opening the community center up to more people gradually. We are also beginning to explore the project of installing more hand washing stations in Tultitlán, thanks to our long-time partner Agua Pura para el Pueblo.
These last few months have been a test to our resilience and we expect the next few months to continue to be a challenge and a learning process. One thing that will not change is our committment to vulnerable families and our promise to accompany them in increasing their quality of life, through educacion, health, environmental care and income generation projects. This support is more important now than ever.

As always, thank you for joining us!
Stephanie Ahlgrain
Manager of Fundraising and Alliances
Amextra
www.amextra.org