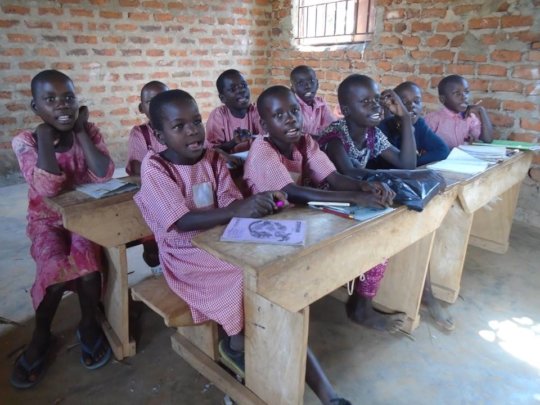 Dear ADR family and friends,
It is the start of a new year in Pallisa and the school and children continue to progress thanks to the help of generous donors such as yourself. The recurring donations have continued to be a great help in supporting the children's feeding program, medical needs and provision of much needed school supplies such as school pens, chalk, teaching materials, etc. The following will outline for you, more specifically, the activities made with the $2,000+ in new donations since our last report.
1. The funds we received enabled us to install solar panals at the school, a new change that has provided children living at school light in the night. Prior to this, students have been living in the dark with a limited opportunity to conduct activiites in the evening. With solar panals, the children's living conditions have vastly improved and they can now read and revise their assignments at night.
3. The fund has helped start the process of building 3 new classrooms to provide individual rooms for children in all class levels by the end of 2018. Currently, children share the classrooms, alternating schedules or running separate lessons in the same room, simultaneously, to accomodate. This has made it difficult for the teachers to manage their lessons and for students to learn. To complete the additional classrooms, we need help to buy 15 windows and 3 doors, more cement for the walls, floor and blackboards, and to purchase new desks (20 per classroom). It is our hope that we can complete this by the start of the next school term.
We pray that our sponsors continue to identify with the children and the community benefiting from their generosity. We are confident that with your help, we can complete the school and living quarters that will provide the next generation of vulnerable youth in Pallisa the shelter, food and education they need to succeed. Sending you love and prayers for a happy and healthy new year!
Many thanks,
Charles, ADR & The Hammerslag School