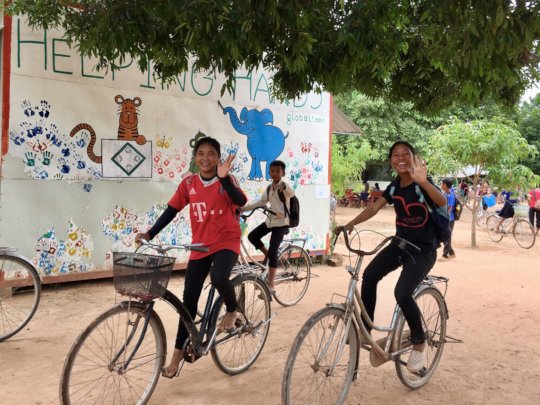 2020 was an unusual year for the entire world, and while all of Globalteer's projects were affected, we were still able to positively impact our communities through our work. Here is a brief update on our projects worldwide and some things we are looking forward to in the coming year.
Cambodia
Sports Programme:
Because Covid-19 cases are low in Cambodia, we have been able to keep our sports programme up and running while keeping proper hygiene protocols in place, which has been a great morale booster for our students. This month, we welcomed our new Sports Project Manager, Jared! Jared is well-known around Siem Reap as "the frisbee guy," as he organizes weekly games of ultimate frisbee, open to all members of the community. He can also speak Khmer, the official language of Cambodia, which is a great asset. We are excited for the new skills and enthusiasm Jared brings to the table and look forward to developing our programme further with his leadership.
HHC Project
Helping Hands Cambodia school continues operating regular classes, per our last update. Because of Covid-related delays, the new school year will now start in February, rather than November as normal. With our sights set on a fruitful 2021, we are hoping to recruit 50 new students for the start of the school year. Spreading the word amongst the community and helping families with the applications is crucial to meeting that goal. Our team is hard at work, making home-visits to the families of prospective new students. We can't wait to welcome some shining new faces!
Peru
Picaflor House:
Although Picaflor House's doors are still closed due to Covid restrictions, the Peruvian government is estimating that they will re-open schools in March of this year. Therefore, we are setting our sights on this date for our official re-opening of Picaflor and initiation of classes for the school year. We will be ensuring our hygiene requirements and practices are up to code on our site, and we will make sure to keep our students, teachers, staff, and volunteers as safe as possible. We will also be keeping up to date regularly with any news from the government regarding any changes to their plans for next year. Picaflor's staff will continue the monthly delivery of food packages to our families most in need!
PAWS:
Although our PAWS work was on hold for the majority of 2020, we are coming into 2021 with renewed energy and a hopeful outlook for the coming year. We have plans to get the ball (and our mobile veterinary clinic) rolling, with our dog welfare campaigns as soon as we are able, bringing desperately needed healthcare to the dogs in the rural villages where we work around Cusco. We are also in the process of hiring a permanent veterinarian and veterinary assistant to work with our team full-time over the course of the next year, which will be an important step for us. Stay tuned for more updates!
Thank you for taking the time to read our update, and as always, thank you for your continued, invaluable support. If you would like to donate, and we hope you do, please visit our page to do so!
Don't forget to follow us on Facebook and Instagram!