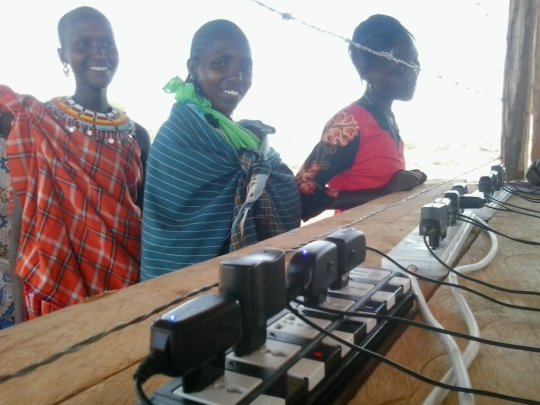 We know that "haste makes waste", right? So why do many of us continue to test it?
In April 2014, we got on the ground here in Samburu County, Kenya with a pioneering team of about 30 volunteers. Our goal was to establish basic infrastructure on the land and, to do so, we had these helping hands available for about two months. Solar and wind energy systems were soon installed and needing connections to various places on the land, namely, the free public charging station. We hired a professional electrician who worked quickly and was skilled in his trade. In addition to electricity, we required a lot of plumbing to be laid throughout the land. We needed a water line from the borehole to a junction that splits the line to two separate water holding tanks; one leading to the free public water supply and one branching off to numerous locations within our internal community. Over a kilometre of trenches were dug by hand, with the same length of PVC pipes needing to be laid; hundreds of parts to be fitted and glued. Needless to say, it was a big job and we needed someone skilled specifically with working with PVC pipes. Some work that the electrician was doing with PVC was similar to what was required for our plumbing, so, rather than take the time to research a reputable plumber we hastily offered the job to the electrician.
When he completed the piping and the glue dried, that glorious moment came that we had all been waiting for; to hear water flowing throughout the land. And flow it did. As water leaked from every fitting, we realized that not a single piece had been connected properly. The entire plumbing system would need to be redone. Our great team of volunteers was scheduled to depart, leaving the project director and a couple volunteers to undo and redo everything, at the same time as continuing to establish and direct the rest of the project. With a lack of helping hands and not wanting to retract from the quality of tree planting trainings (in addition to rains that pushed mud to bury many pipe trenches), it took four more months to see the plumbing to completion. Time, we admit, that could have been much better spent.
From this, we have learned to take the time to do a job right and find the right person for the job; to develop relationships with quality people. Learning to do the job ourselves has also been very beneficial, as we have a couple volunteers who have acquired fantastic plumbing skills through kilometres of practice! And let's just say we are thankful that our "only" plumbing is for water coming in – a huge benefit of the dry composting toilets.

During the drought, like the last few months, we focus our efforts on community outreach. We visit our beneficiaries to check on trees we have planted, offer advice, and deliver water from our borehole. In August and September we visited 75 beneficiaries.
Sadhana Forest Kenya truly appreciates the support from the Global Giving community. If you are interested in providing us further feedback concerning our project, finding out more about our activities or area of operation, or would like to volunteer with us, please contact us here or email us directly at Kenya@sadhanaforest.org.
Ashe Oleng! (Thank you very much in Kisamburu)