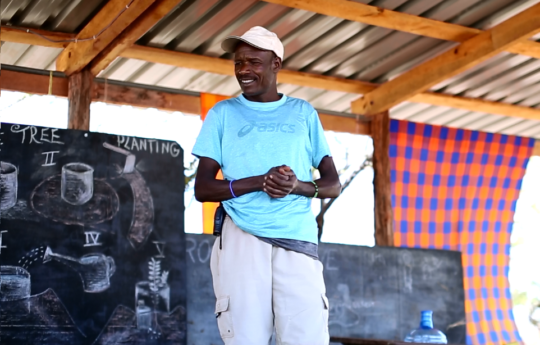 Mark, our Community Liaison Officer at Sadhana Forest Kenya, comes from Lksheki; a village of about 200 households where people are herdsmen and small-scale farmers. Mark has played a key role in the successes of SFK and we would love to tell you more about him!

During his 20's and 30's, Mark worked in the Kenyan military. He was based in Nairobi but travelled across all roads of Kenya as a driver, ferrying soldiers to various borders of the country for security. In the year 2000, he came back to Samburu County and worked with the Red Cross and World Food Programme for about six years driving supplies and food relief. After that, he volunteered himself to provide education around his village; he assisted in various schools, teaching young children how to read and write, including teaching English.

A typical day for Mark, at Sadhana Forest Kenya, starts around 7:00 am. First, he checks on trees (especially during dry times) and, liaising with management and other workers, he helps to co-ordinate the day's tasks. Mostly, these tasks revolve around tree planting in the community as well as giving trainings in our Community Agro-Forestry Learning Centre, schools, villages, and sometimes in trading centers (some of the small towns nearby). "I love it. I love to work with the community, especially when conserving the environment" stated Mark.

Mark has a wife and five children; four boys and one girl; four in school, and one just 8 months old. Since starting with Sadhana Forest, he says he has seen very many changes in his family, especially food and clothing. He says "To get those now is easy, before I was struggling to find money for clothing and for school fees, and now I am OK." Mark has planted 30 trees on his land and, with his exceptional care and the fence he has built for protection, all are doing very well.

We asked Mark if he has any message he would like to share. He would like the world to know that "...Sadhana Forest is a world project; something that came from afar to enrich these interior counties, like Samburu. I also advise the world just to come together, to co-operate together, and love each other. Like now, for example; stop fights; make more trainings about life, simple life without fights. Yes, I would like the world to stop fighting..." Mark added his thanks to those in the world who are trying to conserve the environment, to educate people (especially his tribe Samburu) to know more about soil and water conservation "...because protecting life of trees is also part of our life."
Since our last update, we have planted 156 trees in the local community. We have also done trainings and plantings at four different primary schools; training about 250 children total. We held two trainings on our land and three remote trainings; training over 100 people. It's been a busy few months! We accomplish all this because of our volunteers and the support from the Global Giving community. If you are interested in providing us further feedback concerning our project, finding out more about our activities or area of operation, or would like to volunteer with us, please contact us here or email us directly at Kenya@sadhanaforest.org. We also strongly encourage you to provide feedback at the end of this report.
Ashe Oleng! (Thank you very much in Kisamburu)