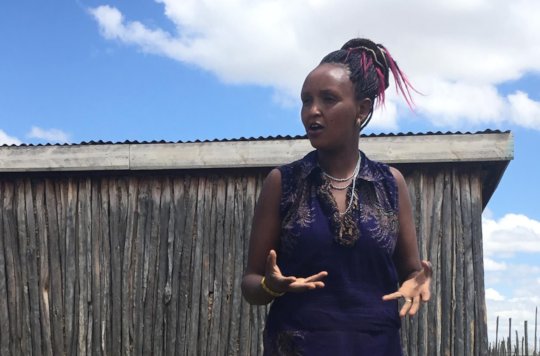 Susan is a shining light and a tireless promoter of trees in her work with Sadhana Forest Kenya. With her perpetual joy and enthusiasm, you would never assume what challenges she has had to overcome to get here. Taken out of school to marry when she was just barely 14 years old, she spent the early days of her marriage playing "house" and imaginative games with her younger brothers-in-law. Then, when she was 18 and already pregnant with her third child, her husband was tragically killed. Susan found herself with no possessions or money and three young children to raise on her own. According to Samburu tradition, women may not remarry if their husbands die. Little by little, Susan began to create a home and life for her family; first, by building a house and homestead where she would later welcome her mother and many of her siblings to live, and later, by engaging the community as a catechist for the Catholic Church, a job for which she earned roughly 20USD per month. Even as she lost siblings and loved-ones to various illnesses and accidents, she remained committed to uplifting and promoting her larger community – transforming countless lives. Barley living above poverty herself, she used every resource she had to support others, helping them rise from helplessness to engaged and participating members of their community. Beyond her work for the church, Susan volunteered, and continues to serve, as a Community Health Volunteer. She later worked in the local hospital, treating the physical and spiritual health of her neighbours. She sees working with Sadhana Forest Kenya and for the environment as a natural next step for her. After all, the health of nature and the environment have vital roles to play in sustaining the health and future of the Samburu people.

In the year and a half that Susan has so far worked with Sadhana Forest Kenya, she quickly took on the role of Community Engagement and Training; doing what she does best, which is inspiring people to transform their lives and their environment. On a typical day, she awakens at dawn to arrange the small shop she runs out of her home, light the fire to cook breakfast, and help her mother. She then takes her youngest daughter to school before coming to the Sadhana Forest Kenya campus to finish loading up the van for a day in the field. In the mornings, she organizes a team of workers who prepare the areas where trees will be planted later in the day. When there is a tree-planting training for locals, Susan is the one who conducts it. She does the follow-up home visits of our tree recipients, making sure everything is clear about how to care for their trees and offer encouragement and advice. She teaches with laughter and metaphors that are relevant and understandable. Susan returns to Sadhana Forest Kenya for lunch before heading back out in the afternoon to plant the trees, deliver water, and record data. At home, a line of people are waiting at her shop window. Evening chores extend until after dark. Susan is thrilled that she is able to work so close to home, spending her mornings and evenings with her family. She loves incorporating environmental health into her experience and rounding out the life she has built from scratch.

Here at SFK, we finished 2017 and began 2018 full strength, holding three trainings attended by over 100 people. We've already planted almost 200 trees this year!

We are so grateful for our volunteers and the support from the Global Giving community. If you are interested in providing us further feedback concerning our project, finding out more about our activities or area of operation, or would like to volunteer with us, please contact us here or email us directly at kenya@sadhanaforest.org. We also strongly encourage you to provide feedback at the end of this report.

Ashe Oleng! (Thank you very much in Kisamburu)