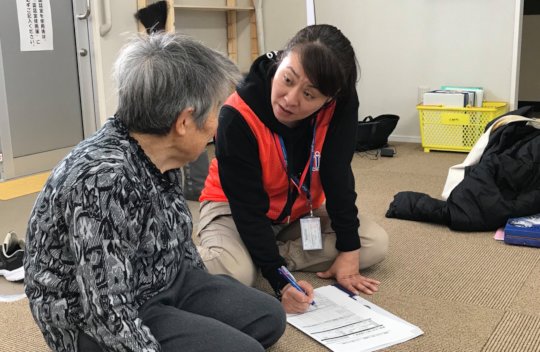 Since October 2019, JISP has been working to support the communities which were severely affected by Typhoon Hagibis, one of the most powerful tropical storm in several decades. Currently, we are focsing our efforts in supporting Ohsato Town, Miyagi prefecture.
We are working in partnership with the Heath & Welfare Dept of Ohsato Municipality in conducting various activities to improve physical and psychosocial health of the survivors.
For instance, JISP provides weekly salon activities for the residents of temporary housing complex, as well as and in the community center of the affected Naka Kasukawa ward, to provide survivors opportunities to socialise, enjoy activities such as cooking, dancing and music events, and to exercise. These activities are designed to improve the physical and psychological health of the survivors, prevent depression or isolation, and to strengthen the community support mechanism. At the same time, our trained Coordinators provide consultations and psychological first aid to the participants, and provide referral via municipal office, if needed. JISP also supports the commnity's more specialised needs by dispatching disaster nursing professionals, as well as clinical psychologists and therapists.
In addition, we have been suporting the evacuees at the city's evacuation center in Date city, Fukushima prefecture, by providing soup kitchen, mobile café and health check, whist providing psychosocial care, in coordination with the municipal office and social welfare council. Many of the survivors have still been left clueless as to where they can possibly live in future. Therefore, we plan to monitor the vulnerable survivors during their transition period and provide psychosocial support.
JISP are commited to continuing our support to the Hagibis survivors at least until the end of Dec 2020. Thank you for reading our report and for your continuous support!