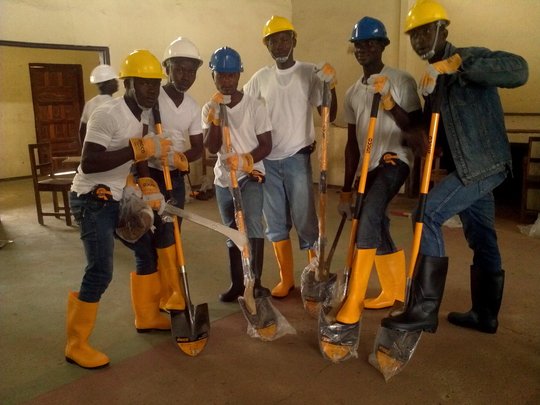 50 Marginalised Youth from Liberia have completed six months of their vocational sojour. With support from Global Giving through Camp for Peace Liberia, the 50 youth were admitted in April 2015 to undergo nine months residential vocational training program at the Lutheran Vocational School in Salayea, Lofa County, Liberia. The nine program program, when completed will provides the youth with literacy skills, life skills and vocational education such as agriculture, carpentry, masonry, plumbing, electricity and cosmetology. While the program emphasizes basic literacy and psycho-social support, the livelihood skills offered are an integral tool in helping them successfully reintegrate into their communities at the end of the nine months.
The purpose of the project is not only to prevent marginalised youth from committing crimes and moonlighting as paid mercenaries for illicit foreign enterprises, but also to provide an opportunity for them to fully develop their individual talents through teamwork and discipline, social etiquette, personal character growth and development. The project also aimed to empower them in conflict resolution, reconciliation, trauma healing, good governance and human rights.
Most of these youth came to the program with no or little skills, but since of the commencement of the training in April, they are being transformed and empowered as citizens to become productive workers and entrepreneurs. They are now demonstrating their talents to their communities that change is possible and that war-affected youth can be transformed into a force for good in society.
Before joining the Educational Program, Gayflor's main source of income came from illicit gold mining and selling palm wine and he was unable to support himself to school or help his family. At one point, his situation became unbearable as he attempted committing sucide due to the suffering and his lack of education and training inhibited Gayflor had no formal education neither skills and could not continue studying due to the civil war. He learned about CFP educational program from a friend who shared his own experience from participating in the program since two years ago. Gayflor says that, "The success stories from my friend made me to come to this program" Today, Gayflor a 26 year-old man is convinced that the skills he is acquiring from the program will provide him a space when he return to his community and will be able to engage an entrepreneurial path that will allievate him and his family from poverty. Gayflor is currently learning carpentry as his major. Gayflor has proved to his community and peers that he is a disciplined and hard working person and his effort and seriousness are recognized by the school when he was elected president of the school.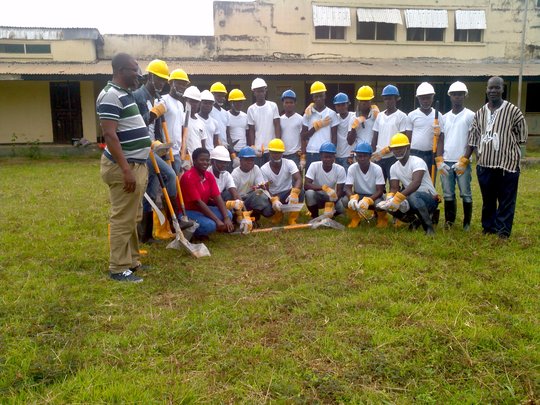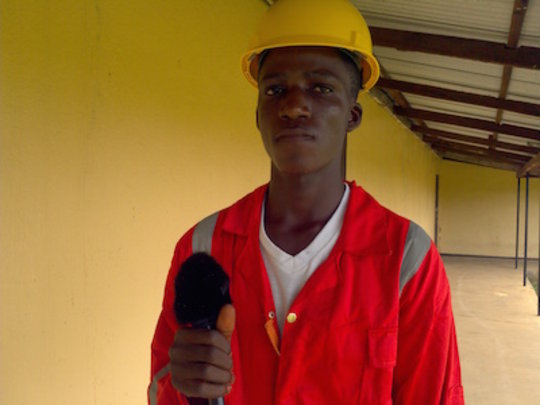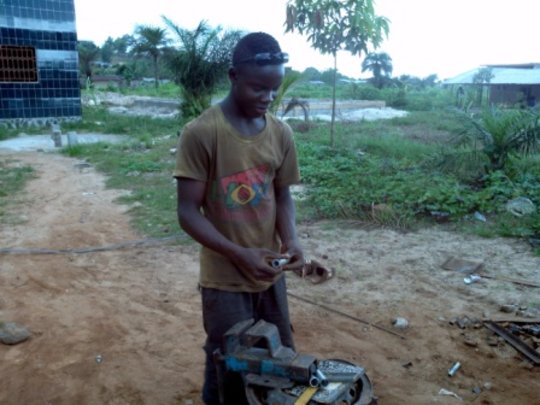 I am grateful to Camp for Peace Liberia through GlobalGiving for giving me the opportunity and encouragement to attend school to acquire vocational skills. I suffered as child soldier and my parents were killed during the civil crisis. When I returned to my community in 1996, I was neglected by my family and community people so I felt frustrated and hopeless about life. But I as a result of the Global GivingGrant from CFP, I am able to work for my own living and to contribute to my community. (Sylvester P. Togbah, Beneficiary of the Global Giving Grant).
Sylverster P. Togbah is one of the 55 war affected youths, especially formal child soldiers and very volunerable young people currently benefiting the GlobalGiving Grant. They are between the ages of 15 - 35 years who has benefited from a general grant from GlobalGiving so far.
We want to extend our profound thanks to all our well wishes, sponsors, donors who donated their hard earned money to making sure that these young lives are transformed from excluded dependency to included and responsible citizenship in our country. We also thank GlobalGiving for their tireless effort.
Links:
WARNING: Javascript is currently disabled or is not available in your browser. GlobalGiving makes extensive use of Javascript and will not function properly with Javascript disabled.
Please enable Javascript
and refresh this page.