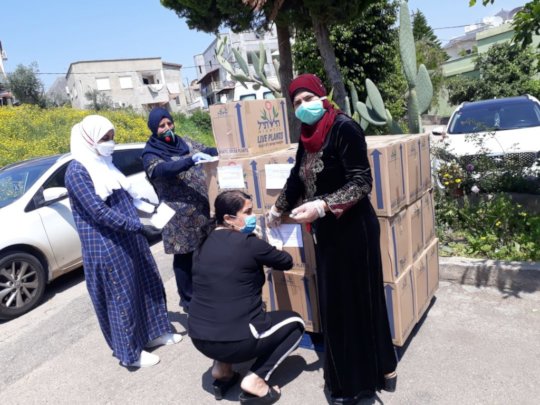 Kayan and grassroots women leaders are taking the lead in responding to the everyday dangers and challenges which face Arab Palestinian women, especially following from the Covid-19 crisis.
Because of Kayan and women leaders' long-term, deeply-rooted engagement in local communities, we were able to work quickly to identify community members' needs that came out of the economic crisis and movement restrictions caused by Covid-19. Grassroots women leaders observed that, firstly, domestic violence had become a rapidly growing threat and, secondly, that women are particularly vulnerable to the economic challenges, especially domestic workers and single mothers.
In order to respond to respond to the increase in incidences of domestic violence, Kayan has expanded our support hotline. During the Covid-19 crisis period, we have seen an increase in need with 40% more women reaching our hotline. We have expanded our hotline to offer around-the-clock service as well as a texting service. This allows women who may not have a safe space to speak, due to confinement in their homes, to still be able reach support and assistance.
Grassroots leaders have also been raising their voices to speak out against the rise in violence and have been working to build trust and relationships with community members. Creating these bonds helps women in their communities know that they have support in breaking social norms by speaking out against violence and about the resources they can access. More than 300 women have reached out to Kayan's local groups requesting support of various types. Kayan is also doing intensive work in the media and on social media to make sure that society cannot ignore the crisis of domestic violence.
In response to the economic issues that Palestinian women are facing, Kayan is both working with grassroots leaders to provide an on-the ground response, specifically working with women grassroots activists and leaders to provide for basic economic needs in 10 localities. Kayan's local women's groups have also been working both independently and in partnerships with local councils to distribute critical goods to more than 540 women and their families, including vulnerable populations, such as single mothers, domestic workers, and the elderly. Grassroots leaders are also integrating their anti-violence work into the economic response by taking the opportunity of delivering packages of goods for basic needs to engage community members about their right to safety and relevant resources.
Kayan also took action to make sure that Palestinian women have access to other critical information to keep themselves and their families safe. As there is a lack of information on relevant topics from public health information directly related to the public health crisis to information about economic assistance to information about protection from domestic violence, Kayan worked with partners to ensure that information is not only available but accessible and translated into Arabic. Kayan is also using our hotline to assist women in gaining information on, for example, how to claim unemployment benefits and access other institutional support.
Finally, collaboration has been key to our efforts in addressing this crisis. Kayan has also initiated the first coalition of Palestinian feminist organizations across borders to stand against surging domestic violence. The groundbreakng coalition, Fada—Palestinian Women against Violence, is comprised of 22 feminist organizations. We held an intensive, three-week campaign entitled, "We are your Voice" in June to say to women and society that we will not be silent in the face of violence. The campaign reached well over 1 million Palestinians with our critical message and is working to continue standing against violence.
While this is a challenging time for everyone, women's needs cannot be forgotten. We commit to only building our sustained, grassroots work throughout times crisis. We are grateful for you, as a partner in supporting this challenging and important work.
Please keep following our emails for more information about our inspiring grassroots work and how to support it. We will be in touch again in September with information about an exciting opportunity from GlobalGiving to amplify the impact of your support on Kayan's work.