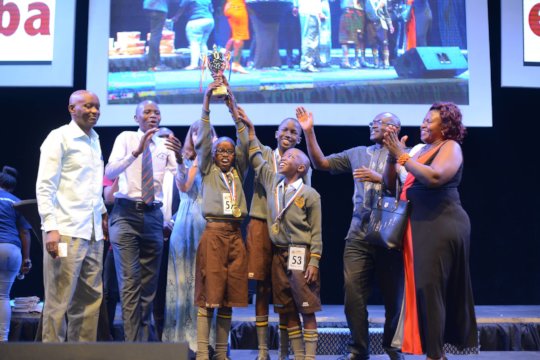 On 24th November 2018, Ugandan children who have participated in our programs once again participated in the African Spelling Bee, a continental spelling competition that brought together 120 people from 12 different countries to compete, and determine the African Spelling Bee Champion. Our children did us proud and one of them emerged second in the competition. This is a testament to the importance of reading.
This was a build on a successful National Spelling Bee, that saw millions of children participate in the competition all the way from their classrooms in June.
Over the years we have focused on creating fun platforms that make learning fun and make children want to become the best they can ever be. We are now seeing this happening, year after year. It is working. Thank you for your continued support.
In the past 3 months, we have also distributed over 3,000 books, thanks to your generosity of gifting books, to children in the 3 of the biggest refugee settlement camps of Kyangwali, Kiryandongo, and Kyakali in Uganda. These books have brought a lot of excitement and hope to these children, whose future seems bleak in many ways. One of the officials in Kyakali camp had this to say to one of our team members who delivered the books there,
"You are a blessing to us, to your generation. I tell you, Organizations have gathered in this camp, they have thought about helping in relief supply, health, and education but none has ever thought that amazing storybooks, would be good to support learners, learn through enjoyment, fighting the gun trauma that displaced them."
We are increasingly seeing how one book can make a difference in the lives of several children, as they get to read it together and how a simple story can inspire unimaginable action and leave a mark on the lives of these children even as they grow up. We know today, that when children fall in love with books and learn to read, they will be motivated to stay in school longer, and will go on to challenge themselves and seek to become the best they can ever be.
Your continued support and generosity makes this possible. As we come to the end of this year, we kindly request that you proudly share these stories with your friends and family and in your own way, ask them to support gift many more children with books that will transform their lives.
Thank you