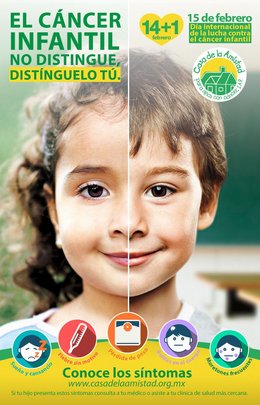 Ensuring the availability of, and access to, early detection programs for cancer can significantly reduce the cancer burden in Mexico. In fact, this objetive is part of the World Cancer Declaration Targets to be achieved by 2025. Target 6 seeks to ensure that population-based screening and early detection programs are universally implemented in order to improve public and professional awareness of cancer warning signs and symptoms. Target 9 aims to provide innovative education and training opportunities for healthcare professionals in all disciplines of cancer control.
The purpose of the "Early detection of childhood cancer saves lives" project on GlobalGiving it to further and align our efforts with those of the World Cancer Declaration. However, this project has not been able to move forward as it has yet to receive funding.
If Casa de la Amistad were to obtain the necessary funds, it could equip parents and caretakers with the knowledge and tools to recognize the warning signs and symptoms of pediatric cancer. This is essential in reducing the likelihood of misdiagnosis and to ensure prompt referral to specialist medical care.
Dora Maria is an 8 year-old girl from Tabasco, a state situated approximately 500 miles from Mexico City. She is a shy little girl that loves to read and play hide-and-seek. Two years ago she was diagnosed with leukemia, a cancer that causes the rapid growth of abnormal white blood cells and interferes with the production of healthy blood cells.
Instead of starting first grade, Dora Maria and her mom traveled to Mexico City for treatment. During these past two years, Dora has spent more time at the hospital receiving intensive chemotherapy than at home. As consequence of chemotherapy, Dora´s hair has fallen out and there have been many days when she is too tired for hide-and-seek. The treatment has been tough, but Dora has been tougher.
Today Dora Maria is near the end of her treatment and is able to spend more time at home with family and friends. Because of the in-house school at Casa de la Amistad, she has been able to stay on track with her education and has begun third grade.
Dora Maria tells us that what helped her through this difficult time were the friends she has made at Casa de la Amistad, many of whom she met at the food hall, during therapy sessions or at school. Dora´s mom shares that what helped them most was being able to count on the anti-cancer medications provided by Casa de la Amistad. She is grateful that Dora has been able to receive the comprehensive treatment she needs in order to conquer cancer! She thanks Casa de la Amistad and all of you, the generous and warm-hearted people, that give so more children can live a life free-of-cancer.
Your donations enabled us to purchase Vesanoid for Dora and for many like her, a cancer medication that interferes with the growth of cancer cells and slows their growth and spread in the body. From everyone at Casa de la Amistad, thank you for the wonderful contributions you have given to our uninsured low income patients. The children we attend truly benefit from the anti-cancer drugs provided, allowing them to complete their regimen, increasing their chances of conquering cancer. Without your gift none of our patients would be able to afford these medical necessities. Thank you!
Links:
WARNING: Javascript is currently disabled or is not available in your browser. GlobalGiving makes extensive use of Javascript and will not function properly with Javascript disabled.
Please enable Javascript
and refresh this page.