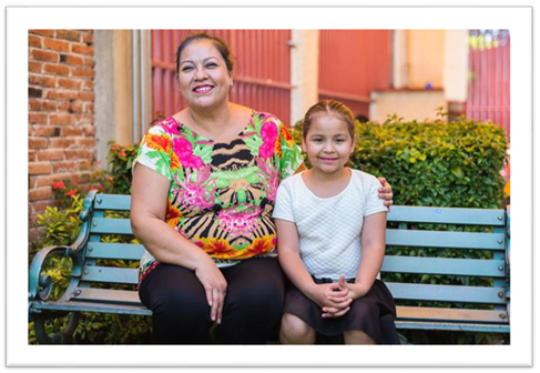 Today, We have it all, we stop suffering!!. For Casa de la Amistad and for the donors we only have blessings, we are really thankful, because without them I would not be able to give her these opportunities, said Isabel Dana`s Mom.
At Isabel´s lap, is Dana a beautiful girl with a great smile on her face telling us: When I grow up I want to become a Doctor, to help sick children, like the people that are helping me! Thank you so much.
Dana`s mom, explained to us, that since the beginning she always seems to be sick.
The Doctor told us that it was the throat, then the stomach, then something else, and any improvement.
After so many uncertain diagnosis, Dana with only 7 years old, Isabel, her mom, had enough! so she took her to the National Pediatric Hospital, asking for a real diagnosis.
I was such an ignorant, I didn't know how to help my child, and when the Doctors told me that She had cancer my first thought was cancer equals death. But I told Dana, we will defeat cancer!
When the treatment started, we had no money so we eat a little, sleep a little, couldn´t be home because the Hospital was far away from our house, but when the Social worker told us about Casa de la Amistad we do not hesitate to take the opportunity, because other families told us it was a great place to be in.
Dana and her mom, arrived at Casa de la Amistad and according to Dana´s mom since the first day: we do not live a Little! We start to live our lives, because we received hope when we now are able to have all we need, medicines, nutritional meals, a good bed where my child might rest after chemotherapy, now we can live!
Links: