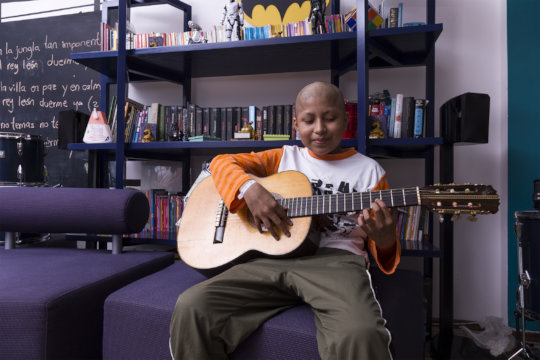 Thank you for your support! You, the donor, made this happen.

With your donation we help low-income children access cancer treatment. Because parents consistently report financial burden as the main reason for treatment abandonment, we provide free-of-cost cancer medications, lodging, warm nutritional meals, groceries, clothing and educational programs to families affected by pediatric cancer. The support we provide makes oncological treatment possible and gives children their best opportunity of conquering cancer.

María is a 6 years old girl, her diagnosis is Acute Lymphoblastic Leukemia.

One of our special beneficiaries that has arrived to Casa de la Amistad with the hope of Iive and make true all her dreams, one of them is to be a psychologist so she is receiving educational support to get her motivated and have a normal life.

"Many thanks to the donors because if it were not for that we would not have our treatments and we could not recover our health and fulfill our dreams". - María
Roberto, a 12 years child with Leukemia, is one of our big warriors.
He started to feel very tired a year ago, with pain and headache, his parents took him to the Hospital where he was attended by the doctors on call, later he was connected to Casa de la Amistad, beacause of his diagnosis he needed a very special treatment and medical equipment.
His family doesn´t have enough economic resources, he is the big son of 4 brothers and the treatment is veryexpensive for them it was a great relief to have CDLA support, here the have a room, food, medicines, transportation, emotional and educational support.
Roberto mentions that thanks to God there is a place like this one and he really likes to be here. His favorite spaces are the playroom because he can talk to psychologists and that makes him feel calm, the workshops are very cool and he likes to do handcraft and in the youth room he likes to play video games.
For Roberto and his familyCasa de la Amistad, the people who work there and their friends are his family.
He said, "Thank you very much to the donors, for all the support that they give us".
Links: