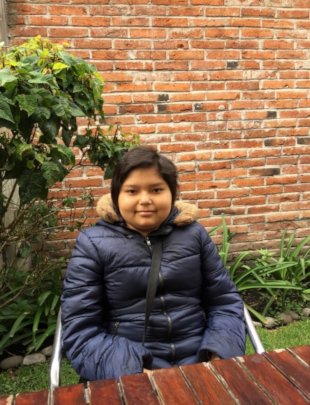 Dear [donor first name],
My name is Ángela, I started with a high fever, headache and paleness, my mother took me to the consultation and they gave me many medications, but they did not work for me, the doctors did not know what I had, that was when they decided to take me to the Hospital Infantil Federico Gómez in Mexico City, where they did several studies and took plates, first they controlled my fever and when they gave the results to my mother they confirmed that I had acute lymphoblastic leukemia.
They told her that the treatment was very long and expensive, the social workers at the hospital asked her if they had relatives or someone to get to in the City and she told them that we had no one, that's when they told her that they could send us to Casa de la Amistad, after doing a socioeconomic study, they told her that we could receive support from Casa de la Amistad.
For me and my mother it is very important to have the support of the Institution since we do not have enough resources to treat the disease, transportation is one of the very important supports since without it we would not have a way to cover the expenses to move and we could not continue my treatment.
"My message to the donors is Thank you! For your big heart and for helping more families and us with treatment so we can regain our health"
Ángela
In Casa de la Amistad, we are very grateful for your support and wanted to share with you some of our insights:
In Mexico we have 5,000 new cases of childhood cancer every year.
Childhood Cancer is the leading cause of death due to illness in children among 5 to 14 years.
In Mexico the survival rate oscillates between 30% and 60%.
In 30 years of history, Casa de la Amistad has supported:
More than 11,500 low in-come families with child cancer.
Currently more than 4,100 children and youth receive follow-up care.
Currently more than 1,300 children and youth are under active and integral treatment.
Casa de la Amistad provide free-of-cost cancer medications, lodging, warm nutritional meals, groceries, clothing and educational programs to families affected by pediatric cancer. The support we provide makes oncological treatment possible and gives children their best opportunity of conquering cancer.
Links: