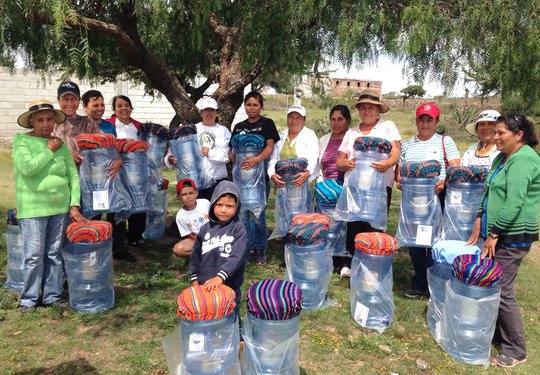 Greetings from CATIS Mexico,
We are eager to update all of our supporters on the incredible success of our rainwater harvesting campaign.
First, here are some of the latest project highlights:
10 rainwater harvesting cisterns with integrated first-flush systems were built in community homes and one community school and 27 CATIS Mexico ceramic water filtration systems have been installed to date. This provides 120,000 liters of clean drinking water storage and an additional 2,000 liters of non-drinking water storage. Additionally, the 27 water filtration systems can provide up to 648 liters of clean drinking water per day (nearly a USD $1,000 value when compared to buying 20-liter bottles of water). An estimated 40 families, 35 students, and 3 teachers – representing more than 200 people – directly benefit from these rainwater-harvesting systems.
We are under budget, even with the addition of the first-flush systems (originally not included in the project budget) while also doubling the water filtration systems distributed (to 27).
The project has provided additional training and educational opportunities in the region.
This Friday marks a time to celebrate. All three communities are hosting parties to mark the completion of their rainwater cistern builds. Surrounding neighbors are invited to be inspired for future work. We wish you could join us!
September 16th is a Globalgiving Match Day. Mark your calendars to donate and have your gifts matched 30%.
Please read on for the project details:
Dylan Terrell, Executive Director of CATIS Mexico, and Lucha Villafuerte, community outreach coordinator for the Coalition in Defense of the Independence Aquifer (CODECIN), have been working continuously with communities in the northeastern section of the independence watershed – providing educational workshops, technical trainings and building rainwater catchment systems! All of this work has been done in conjunction with the local communities who, after initial trainings, have organized other communities and the construction and installation of the rainwater catchment systems.
Through a partnership with Padre Juan Carlos Zesati and the San Cayetano Community Center (located in the heart of this region), the first two communities slated to participate in this section of the project were Las Adjuntas de San José (Las Adjuntas) and Los Cuates. These two communities are located in the northernmost region of the watershed and, until recently, had no water access except for government filled cisterns that frequently left families without any water for weeks at a time. These government cisterns, even when filled consistently, allowed for roughly 5.6 liters per day per person in these communities. That's 5.6 liters/day for everyone's drinking, cooking, cleaning and bathing water! The eight rainwater harvesting cisterns built to date, each with a 12,000-liter storage capacity, directly serve 24 families (more than 100 people) and greatly increase water access for the communities.
We are excited to report that we were able to include an automatic, 200 liter capacity "first flush" system with each cistern. This feature, designed by CATIS Mexico, was not included in the original project. However, we felt it necessary to provide the highest quality of water for community families. This first flush system works as a simple "roof cleaning" system by separating out the first 200 liters of every rainfall (i.e. the "dirtiest" water that could be contaminated from the roof surface). This first flush water is not for drinking, but it can be utilized for washing clothes, cleaning or other additional needs. After the roof has been rinsed and the flush system filled, the cleanest rainwater then enters the 12,000-liter ferrocement collection cistern for long-term storage. This water will be used throughout the 8-month dry season for drinking and cooking.
Water from the cistern cannot be guaranteed to be potable without some sort of filtration and/or disinfection. Every family involved (not just every cistern) also received a CATIS Mexico ceramic water filtration system to use inside their homes. The ceramic water filters work by filtration and disinfection simultaneously and can remove more than 99.9999% of bacteria and pathogens (that's better than US-EPA standards!)
The project created trainers out of the rainwater-harvesting workshop community "trainees." One family from Las Adjuntas volunteered to lead the capacity training for the next cistern build at the Las Palomas' elementary school. This school serves communities throughout the region but has no regular water access. Often the school's cistern remains empty for up to three weeks, which means no drinking water, no flushing of the toilets, no hand washing, etc.
Two rainwater cisterns with integrated first flush systems were built in the Las Paloma's elementary school. This gives 30+ elementary school students, additional students at the adjacent middle school, and nearby families access to 24,000-liters of stored rainwater. Along with the cisterns, each classroom (including the adjacent middle school) received a ceramic water filtration system.
In total, 10 rainwater harvesting cisterns with integrated first flush systems were built in community homes and one community school and 27 CATIS Mexico ceramic water filtration systems were installed.
But that's not all! While we have officially achieved what we thought possible with the funds raised through this campaign, we were able to stretch those dollars even further. This is thanks to the communities themselves who provided all of the labor as well as the sand and gravel for free. Because of this, we estimate that we will be able to build two additional rainwater-harvesting systems in two new communities! We will be working with the local communities in the coming weeks to organize the projects, which will involve communities throughout the region and be utilized to teach about both national and local water issues.
Thank you so much for your support in making this happen! And please spread the word. With more funds raised, more communities can have access to clean and safe water.