Dear GlobalGiving Supporters,
I'm thrilled to be sharing with you one of our biggest updates yet! We had big news last time. Thanks to the support of GlobalGiving supporters like yourself, in conjunction with the Gates Foundation, we provided dozens of new families with rainwater harvesting and filtration systems. This time, through new and existing partners, we were able to increase that impact substantially.
A quick recap: so far this year we've built 68 rainwater harvesting systems representing more than 730,000-liters of rainwater storage - bringing us close to the 75% mark of our 1 million-liter goal this year! And, we're only halfway into 2017!
Working in partnership with various organizations, community groups, and literally dozens of school students, we've built 26 new rainwater harvesting systems this quarter – representing more than 206,000 liters of safe water storage – accompanied by an additional 30 ceramic water filters. Additionally, we've expanded one of our high school projects to include a slow-sand biofilter and a biochar treatment system (both with a 300 L/day capacity).
These projects were generously funded by 100 Women Who Care, Lloyd's of London, University College of London, El Maíz Más Pequeño, GlobalGiving supporters, and even our own staff who turned their wedding into a rainwater harvesting fundraiser!
There is so much going on with these projects, so I'll try to break them down by region and partners.
San Luis de la Paz: Working in partnership with United Communities for Life and Water (CUVA in Spanish) – a coalition of more than a dozen rural communities in the most affected region of the watershed – we continue to make our greatest impact. This quarter, we built 15 new 12,000L ferro-cement cisterns with local communities and CUVA in this region. We returned to communities we've worked with before – like San Antonio de Lourdes, Los Platanos, and Rancho Nuevo – all of whom were ready and eager to get building and finished their projects in record time.

Thanks to the organization efforts of CUVA, we were able to offer new capacity trainings and break ground in new rural communities as well who have been participating in the coalition and eagerly wanting to take advantage of the rainy season. Through this partnership with CUVA, we invited Las Negritas, Misión de Chichimecas, Pozo Hondo, San Antonio de las Mujeres, and San José del Carmen all into our project base – building a total of nine rainwater systems in these new communities.


San Miguel de Allende – EMMP: Thanks to our on-going partnership with El Maíz Más Pequeño (EMMP), we made amazing strides with students from Cerritos High School (take a look at our video and report from last time). We worked with more than 20 students and eight community organizers to build rainwater harvesting systems in five rural communities. Prior to the build, we worked with the Cerritos students to perform a water quality monitoring program in eight different communities, which was followed by a 3-day rainwater harvesting workshop. During the course, we built a 2,500L rainwater harvesting system with the students in the community of San Antonio de Varal. Over the next week, the students broke into four groups and built their own 2,500L systems in community homes in Cañajo, Cerritos, Santas Marías, and Guadalupe de Támbula. The students designed, made materials lists, and installed the systems on their own with no additional technical support from Caminos de Agua! The capacity of young people in the region is growing exponentially! Funding and support were provided by El Maíz Más Pequeño.


San Miguel Viejo: Thanks to a relationship with Ojala Niños, a local education-based nonprofit, Caminos de Agua was invited to work with mothers at the kindergarten in San Miguel Viejo – a small rural community suffering from excessive levels of Arsenic and Fluoride contamination. Roughly, 39 mothers participated in the workshops and construction. Together, we built a 5,000L rainwater harvesting system and installed three ceramic water filters that will serve the kindergarten with safe and healthy drinking water for years to come. Additionally, two more 2,500L systems were built by the mothers themselves, after our training program, in two community households.

Thanks to 100 Women Who Care for providing the funding for this project.


San Miguel de Allende - CBTis #60: This was an amazingly successful project done over 3-weeks with 90 students at the CBTis #60 High School in San Miguel de Allende. Students learned all about regional water issues, rainwater harvesting, and water treatment and ultimately built and installed a 12,000L ferro-cement cistern, a slow-sand biofilter, a biochar treatment system, as well as three ceramic water filters.

Pictures speak much louder than words, so if you have 2-minutes to spare, please take a look at this short video we have prepared.

Many thanks to Lloyd's of London for providing the funding for this project through University College of London.


La Laguna Escondida: The CBTis project (above) really lit a spark under the students. They came to us after the installation at the High School and asked how they can continue to make an impact in their own communities. Utilizing additional funds from 100 Women Who Care, we were able to do a water quality monitoring project with the students in their own communities, which ultimately led to the building of an additional large-scale system in La Laguna Escondida. The project was completely organized by the students of CBTis. You can see pictures of the training and installation here.
To continue following the progress of our work in rural communities, or to get detailed information on any given project, please take a look at our continuously updated Project Map.
We continue to move forward and have already broke ground on new large-scale rainwater harvesting and treatment systems with partners in the municipality of San Diego de la Unión. But the list of those anxiously waiting to build their own systems is growing every day.
Please help us continue to make an impact in these communities who need safe and healthy water solutions immediately. Consider a donation to our rainwater harvesting and water treatment projects today! It takes less than USD $500 to provide a family with a sustainable source of safe and healthy drinking water for life! Any amount helps us get there.
Thank you for your ongoing support.
Saludos,
The Caminos de Agua Team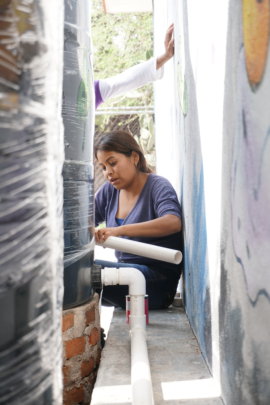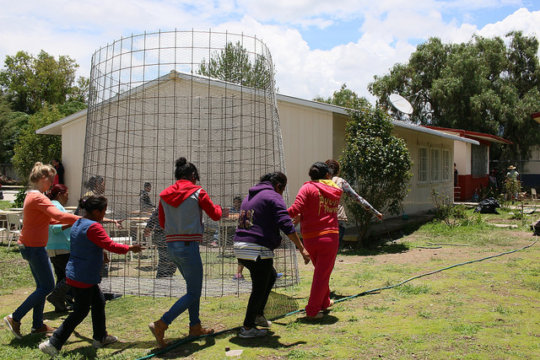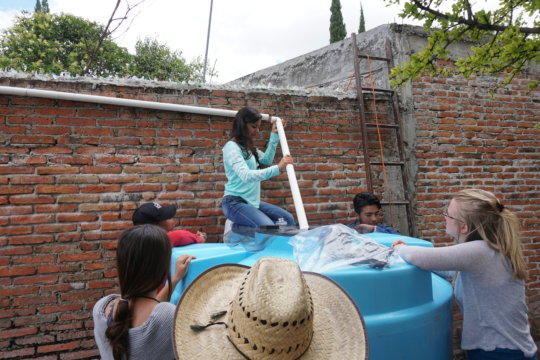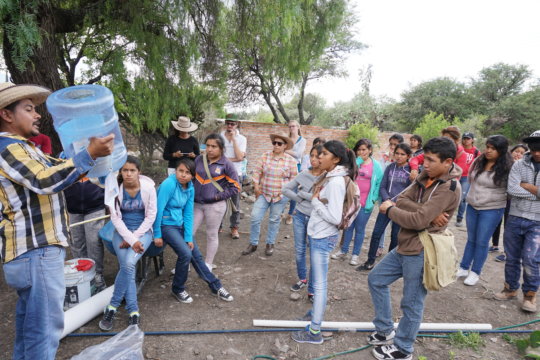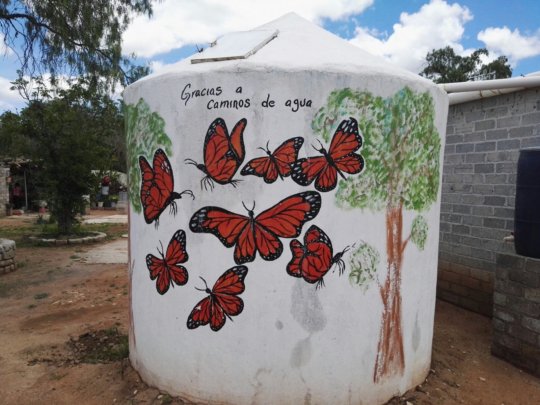 Links: