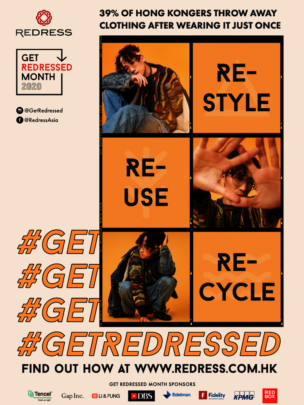 Dear valued donors,
Despite the ongoing setbacks of COVID-19, we have continued to drive change here in Hong Kong to reduce fashion's environmental impact. We are delighted to share the below updates with you and thank you for your ongoing support in our work to cut the waste out of fashion.
New Takeback Partners
We are delighted to announce new additions to our Take Back Programme! Working in partnership with Rue Madame, Jeeves and Inditex Group (Zara, Zara Home, Massimo Dutti, Pull&Bear, Oysho and Berska), members of the public can now take their unwanted used clothing to 34 locations across Hong Kong and Macao. Collected clothing is first sorted before being redistributed, resold or, if absolutely necessary, recycled by Redress to increase the lifespan of the textile or maximise its inherent value. Our current partners are:
Find out more about our Takeback programme here.
Get Redressed Month Success!
Our 2020 consumer campaign, designed to ignite the circular economy and encourage people to keep clothing in use for longer, proved to be the most successful to date.
Our annual Get Redressed Month has become one of our key vehicles for engaging with the public and educating them about keeping clothes in use for longer. The month-long campaign is not only an opportunity for people to rethink their relationship with fashion, but also a chance for us to highlight the negative impact that the fashion industry has on the environment. After two successful campaigns, we were determined not to let the challenges presented by Covid-19 stand in our way in expanding our reach through partnerships with corporates, brands and schools.
Overall, we engaged with 59 companies, brands and schools through Get Redressed Month 2020. We placed 52 public collection points in shopping centres, shops and restaurants in addition to the 14 points in schools and corporate businesses. We continued our work with schools and businesses to educate people on the impact of fashion waste on our environment. We conducted 35 talks to businesses, organisations and schools both online and offline, reaching over 5,000 individuals across a range of ages, demographics and income brackets.
Want to know more? Read the Get Redressed Month 2020 Impact Report
As always, we want to thank you for continued support through these difficult times. We are learning to adapt whilst the world changes and continue to find new ways we can encourage behaviour change and keep clothing in use for longer.

Best wishes,
Gwendoline