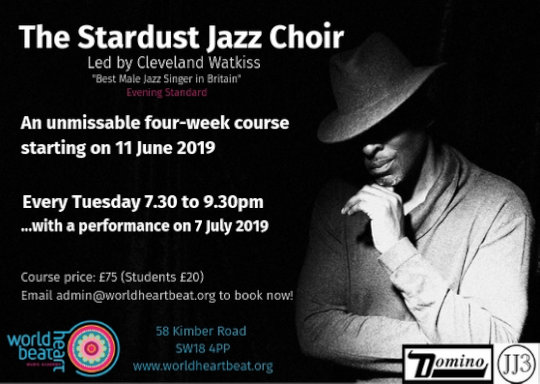 We are in the middle of a very joyful term here at World Heart Beat. Alongside all our lessons and ensembles, we have a number of exciting events.
Last Friday 3 May our wonderful New Orleans Second Line Band performed at the Opening Ceremony of the 10th Anniversary of the Wandsworth Arts Fringe 2019 in Shillington Park, Clapham. We had a great evening performing with other local vocalists, dancers and the beautiful Cirque Bijou.
Then looking forward, on Friday 17 May (7-9pm), we invite you to our Summer Vocal Fiesta here at the Academy. Our young vocalists will be showcasing their talent with a beautiful programme of contemporary, soul and pop classics, supported by our rhythm section musicians. The concert will also feature a set by singer/songwriter Sian Kelly.
We are excited to offer our congratulations to Arnaldo Cogorno, our young Venezuelan-born pianist, who has been studying here at World Heart Beat with Michael Csanyi-Wills. We are delighted to say that he has recently been awarded a scholarship by Trinity Laban College of Music to continue his studies from September. There is an opportunity to hear Arnaldo's extraordinary talent on Sunday 19 May (5pm) when he will perform a piano recital of music by Bach, Brahms and Chopin, here at World Heart Beat.
At the end of June, we are providing the opportunity for our young pianists to perform in a Piano Party to allow us all to hear the progress they have achieved in their playing during the year.
We are also really excited to once again present the Stardust Jazz Improvising Choir at World Heart Beat, led by Cleveland Watkiss. This is an unmissable 4-week course starting on 11 June, every Tuesday, 7:30-9:30pm... with a performance on 7 July - this event is open to all! https://www.youtube.com/watch?v=AIz2ADGQ0bI
"Music speaks to all that we are and all that we want to be and is the most complete language that we have on the planet Earth. Cleveland Watkiss is one of the premier vocalists that England has ever produced. There are very few people who could operate a choir in this way, Bobby McFerrin would be one, Cleveland would be the other. Its about bringing people together and allowing them to really investigate what they have to say" trailer introduced by Julian Joseph.
Once again, thank you for the amazing donations that continue to impact so positively on young people's lives.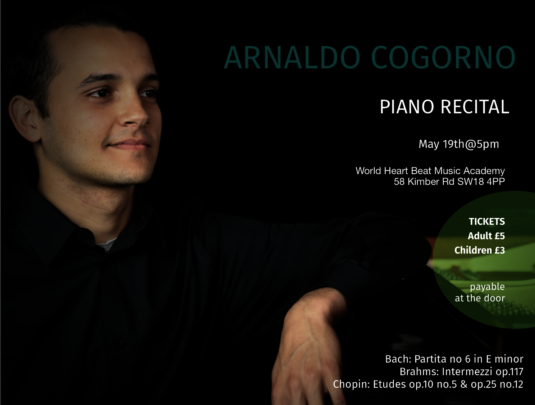 Links:
Attachments: