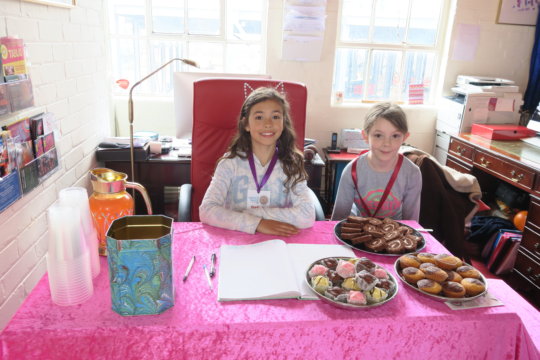 Recently, we had our first Open Day. So many young children came in and were all free to roam the academy trying out guitars, trumpets, french horns saxophones, clarinets, flutes, tabla, violins and piano. At 20 minute intervals they all sat down and there were a few short performances given by the World Heart Beat students, before the taster sessions started up again.
The day was organised by Kirsty (17) for her Gold Arts Award, and the taster sessions were run by World Heart Beat students, many of whom are fully supported by your donations. Our young musicians had the opportunity to experience teaching the workshops and running their own event. The kids were fantastic managing the guestlist, decorating the academy and giving all the visitors the grand tour of the facilities! A big thank you to Kirsty, Milla, Ola, Nathan, Isabel, Elizabeth, Arturs, Bedr, Armaan, Evangelina and Leonela for your help on the day.
There was a great vibe at this event, it was so nice to see children having their imagination sparked. This was particularly great for the 5, 6 and 7 year olds who are not quite ready to have formal lessons but too old for our baby and toddler music classes, to give them the chance to try, learn and play in a really informal and relaxed way. It was so inspiring and joyful for everyone involved:
"We came along on Saturday to your open day. I just wanted to say a huge thank you for kindly opening your doors and inspiring us all with allowing everyone to have a go at all the musical instruments and see some of the children teach us as well as perform! It was a super afternoon!" - Visiting parent
We enjoyed the open day so much, that we want to make them a regular feature at World Heart Beat. This will enable more of our students to gain valuable transferable skills in event planning, marketing, leadership, communication, teamwork and organisation. This was such a fantastic opportunity to open our doors to the community and give more 5-7 year old children the chance to get excited about music and try a range of instruments before they find the one they really want to learn. Nathan (13), who was teaching saxophone and bass guitar on the day remarked "That was so much fun! When can we do the next one?"
Thank you all for your continuing support that makes projects like this possible. We look forward to seeing you at one of our events soon!