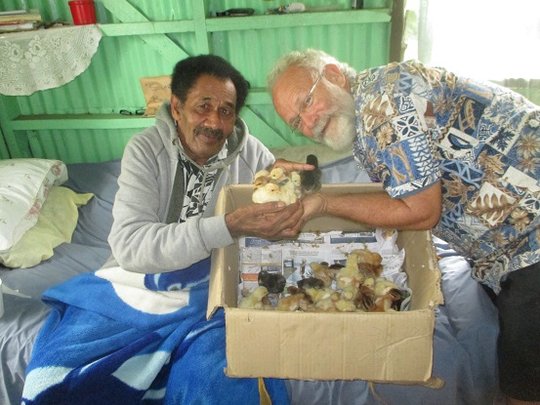 Hi Everyone!
Last week was a major milestone for the project; We were able to send ten dozen chicks to Taveuni Island by air, four dozen chicks to Kadavu island by sea, and seven dozen chicks by sea to Natewa Bay, Vanua Levu. We also sent along mobile rearing pens with the two seaborne shipments.
The person recieving the chicks for Kadavu is Chief Yokimi, the paramount chief of Ono Island Kadavu. Yokimi was instrumental in the establishment of Fiji's first legally gazetted no-fishing marine protected area back in the year 2000. Yokimi wants to introduce community-scale poultry farming to all seven of his villages, in order to provide an alternative to reef fish, which in turn will help conserve the reef balance. Happy chickens- Healthy reefs!
On Taveuni island, a remote volcanic island 200 miles to the North, the Gaiatree Sanctuary brought the ten dozen chicks in and distributed them to four farmers who are very excited to have the improved "super jungli" free ranging chickens. They share the same vision and will be facilitating the project onTaveuni. So we are on the way to poultry self-sufficiency in some rural comunities, and all the farmers are planning to breed the chickens for themselves, creating independence, self sufficiency, and food security, rather than purchasing eggs from shops, which all come from laying hens imported to Fiji as chicks from New Zealand!
In the Sigatoka market, farmers are reporting that their chickens have begun laying and some got a big surprize: green eggs! Yes, some of the chicks we provide are of a strain that produces light blue and green eggs! The children are over the moon at something so cool! The number of farmers coming back to buy more chicks at cost has increased, and the scale of the project has increeased as well. Chicks are being donated discretely to needy farming families. Ideally the farmer pays for one dozen at cost (US $7.50/doz), and the particularly needy farmers get a second dozen free- to their great surprise! But sometimes a farming family can not afford to pay for the chicks and they give some discreet signs of their situation, by their clothes or asking us if we will be selling the chicks in the future, as they need to save the funds. How many can I get for four dollars? Or family discussions on whether they can afford them or not, etc.. We strike up a conversation to find out if the farmer has a job or if he is living entirely off the farm. Gifts are discreet and give the impression to the pubic that the farmers are paying for their chicks.
The next phase of the project in Fiji will target entire communities that are practicing good environmental stewardship, setting aside large areas of their coral reef into no take "tabu" zones. The first of thee workshops will involve Votua Village, where Luisa has successfully raised up two dozen chickens, and where more women have asked for help getting started. The mobile rearing pens and a small model roosting and laying house will be used in this community to good effect. From Votua, the adjacent villages or Tagage and Vatukarasa will the be next.
Vanuatu: The Vanuatu communities in the cyclone affected areas have organized themselves and many farmers have been identified with experience in poultry farming and these farmers will be given special focus for restoring their focks. However last week we reached a major snag: Vanuatu Biosecurity will not issue us with a permit to carry the chicks to Vanuatu on the plane, as they do not yet have a "formal protocol" for importing day-old chicks from Fiji! There is no risk, as Fiji has no diseases that are not already in Vanuatu, but the regulations are strict nevertheless.
They say it could take several months to approve a protocol, so in the mean time we have found a source of imported egg-producing chicks in Vanuatu. We now plan to purchase these and to use them in the workshops and to grow them up and to then breed these chooks with the best local roosters, to be able to produce high quality hybrid chickens. We will purchase small 75-egg incubtors for areas with dependible electricity. This will help build local capacity even further. On the positive side, there is no time frame limiting the project, so we will indeed get what needs to be done completed in spite of all obstacles!
The plan now is to land in Vanuatu in mid September and to meet with the communities and to begin the work as much as it is possible. Building the mobile rearing pens and small chicken houses, working to create a local breeding flock, and building increased capacity among the farmers, etc.
More Good News! Last Thursday a team from the South Pacific Community (SPC) and Fiji Ministry of Agriculture came on a fact-finding visit to the farm. They were very impresed, and we will be writing a joint submission to the Green Climate Fund for January, focusing on developing hot weather adapted breeds of chickens that can be bred with ease in Fiji and the region. Poverty alleviation, food security, and import substitution are integral parts of the concept.
The potential for greatly increasing the scope and efffectiveness of the project is only possible because we are operational and not just talking- we are acting! Thanks to each of our donors for helping make this happen... it means so much!
We have surpassed the half way point to the project goal on Global Giving, with over $7,500. raised through your generous donations. We received an additional check of $7,700. just last week by mail from the Ruth DuPont Lord Charitile Trust. We had been a bit worried that the ongoing Fiji work or several trips to Vanuatu would use up much of the Vanuatu funding due to the delays, but no more! This additional gift is very exciting and encouraging.
If you have any questions or comments, please write me at: abowdenkerby@gmail.com
I thank each and every one of you.
Austin