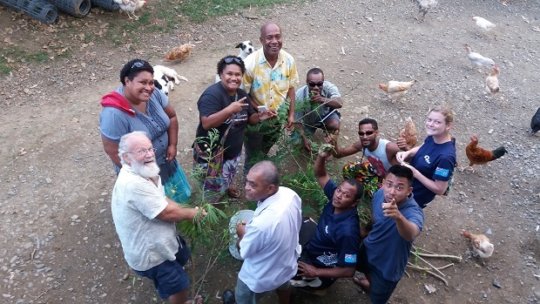 Dear Friends,
As mentioned, with the recent Fiji Cyclone Winston Disaster, the NGO community has decided to promote the Happy Chicken project within their community rehabilitation work. We therefore carried out our first Happy Chicken workshop for the NGO sector, the first week of May here at the Sustainable Livelihods farm in the Sigatoka River Valley. Twelve participants came from four organizations, plus three nearby farmers also attended.
It was an exciting workshop for the participants, and we all learned so much A Happy Chicken handbook draft was circulated to the participants and the participants at the end decided to create a "Happy Chicken Association", with a facebook page! https://www.facebook.com/happy.chicken.association/ Please visit and like the page, and see the photos and more detailed information about chickens!
Just this week we distributed eight dozen chicks in the Sigatoka area, and we also sent four dozen three week old chicks to Caqalai Island for the newly trained poultry farmers of GVI to raise. That site will soon become a taining site for the cyclone damaged villages. With the cooler weather, our hens are coming into their heavy laying season, so that up to 18 dozen chicks will be hatching per week July through October. A formidible task to distribte them all, so we are relieved to have other NGOs behind us and working with us now!
Turning to the country of Vanuatu, where Cyclone Pam devastated the islands a year ago in March. As reported, we completed our first fact finding and training trip in November, but we have unfortunately been prevented (by a lack of legal biosecurity protocols between Fiji and Vanuatu), to send our improved island chicks to the needy communities there. But we have now been told that the export can happen from September! We have in the mean time decided to bring 2-3 trainees from Tanna Island for intensive training for 1-2 months here at the sustainable livelihoods farm, to carry back the chicks and skills to Vanuatu with them when they return home. They will also be trained in the use of small home incubators, which we have ordered, and on their return they will help set up small hatcheries with at-home mothers (with reliable eectricity), as a livelihood and community service. These trainees will become the trainers and breeders for their island. This is a very exciting deveopment, and will be the subject of a future report.
Lastly, Fiji Biosecurity has finally given us permission to bring in eight heritage breeds of chickens from New Zealand, for local breeding trials: the famous Rhode Island Reds, Black Australorps, Plymouth Barred Rocks and the like! This will alow us to increase production of the highest quality free range birds, that do well in the tropical conditions of he Pacific Islands. AND lastly the SPC is buying us some new incubators- US $5K worth! Will wonders never cease....
Thanks and kind regards to each and every one,
Austin