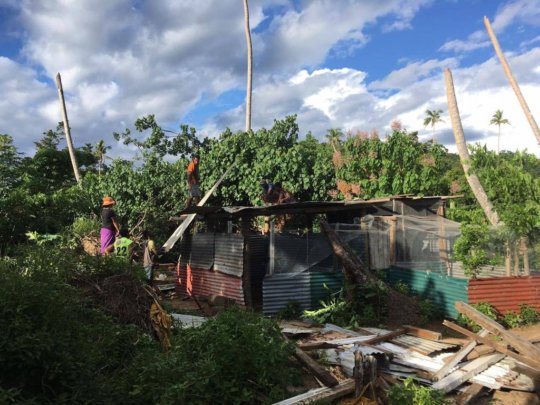 Do to the lack of coconuts, crops, and vegetation due to severe cyclone Winston which hit a year ago, we have continued to send chicken feed to the Koro project on a Monthly basis. However, the women have now told us that they are able to make sufficient chicken feed from local materials, now that their gardens have recovered. Self sufficiency was the goal and this has been achieved!
The chickens have started laying and the women are very excited to find out that some of them lay green eggs! A new chcken house was built from salvaged materials from the destroyed homes, and greatly expands the sleeping and laying area for the happy chickens.
The next step will be to decide if the project should be expanded within the village, how many more chicks are needed, materials needed for expansion to adequately meet the needs of the community, and based on the local feeds that can be produced. The Nabasovi Village project has expanded with local resources and from woman to woman, to the next village, and we have sent chicks and will contine to send chicken feed there for another month.
Thea, the new US Peace Corps volunteer continues to help by sending us reports, and she is helping to organize another series of Happy Chicken workshop for other areas hit by the Cyclone and in need of the project. Thea and her PC collegues are presently trying to raise the funds for transport for four local trainees from each of 17 new communities, plus 16 PC volunteers, who will follow up. This big group will be divided into 3-4 workshps, to train an estimated total of 88 people at our Sustainable Livelioods Farm in Sigatoka. This represents a major expansion and new direction towards sustainability of the program.
Once the transport funds are raised for these proposed workshops, we have wworkshop funds promised from SPC- the South Pacific Community, and with the cage materials, baby chicks, and stater feed funded through your donations on gobal giving. In this way, small streams of funding join together become a river that can move the communities and wash away the problems associated with poverty and the impacts of this horrific natural disaster.
Blessings and peace, and thanking you once agan.