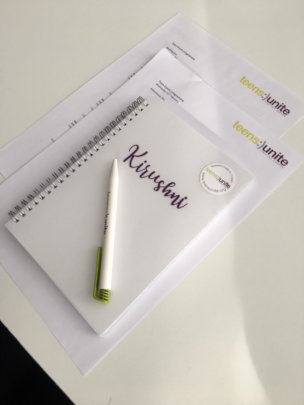 Since our last update, we have launched an exciting new programme giving six young people supported by Teens Unite, the opportunity to organise, develop and run their own fundraising event, working alongside our own events team.
We are really excited that this is something a little different, and have developed the programme to give the participants the opportunity to gain practical experience utilising a wide range of skills including research, design, sales, negotiation and finance as well as event management.
In the first meeting, the group got together and started to get to know each other over a lovely lunch at some stunning offices in London's city district. They started to discuss some of their initial ideas, talk about the roles that they thought might be required, and their own skills and strengths as well as their ambitions.
By the end of this meeting, they had allocated some initial tasks and started to work on researching different event ideas, venues suitable for each. They talked about their budget and started to think about their audience, how they would market and promote their event.
It was a long day, but the team left full of ideas and excited to get to work on their allocated tasks.
During the second event, the team re-grouped and developed their event idea, they got really creative thinking about a name for their event. They had some ideas about venues, and made dates to go and see the venues and their facilities.
By the time we update you next time, these young people will have hosted their event. We will be delighted to share with you all of the details and share some of the pictures.
To everyone who has contributed to our project, a huge thank you, for allowing us to try something a little different which will teach new skills and give valuable experience that will enhance the CVs of the young people we are supporting.