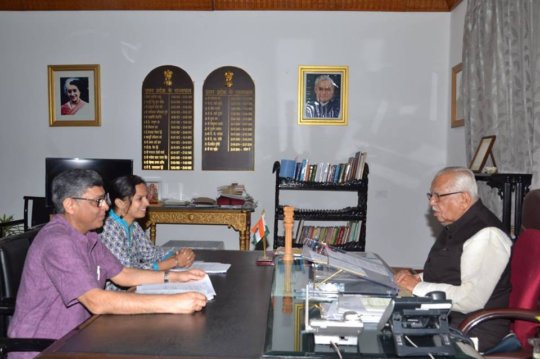 Dear Donors,
Greetings from Breastfeeding Promotion Network of India (BPNI)!
We are happy to share the second report of this project. As part of the project advocacy we have now approached the state of Uttar Pradesh(UP) in India to pitch our field level training course to be included in the State Nutrition Mission.
Dr.Arun Gupta, Central Coordinator and Dr.Shoba Suri, Policy & Programme Coordinator,BPNI met with Sh.Ram Naik, Governor of Uttar Pradesh in Lucknow in the month of May 2016.
We introduced ourselves and highlighted BPNI's 20 years of work.We shared the Infant and Young Child Feeding practices status for Uttar Pradesh as compared to National figures which was alarming for him as Uttar Pradesh's rates were very low. BPNI suggested that reaching out to all women with skilled support would be beneficial in increasing the current IYCF rates of the state.
We also apprised him on the Infant Milk Substitute Act (IMS Act) an Indian law protecting breastfeeding ; which was his brain child and was introduced by him as the private member bill back in 1992. The IMS Act is in threat because of several market forces and we wanted him to take note of that as well. BPNI suggested the Honourbale Governor to write to the Prime Minister in regard and protect the IMS Act from being repealed.
As an immediate action the honourable Governor fixed up a meeting with Chief Secretary, Uttar Pradesh to apprise him on these details. As a follow up our team met the Chief Secretary Shri Alok Ranjan, Principle Secretary, WCD Ms D. Verma, DG UP Nutrition Mission, Mr. Kamran Rizvi, Director UP Nutirion Mission ,Mr. Amitabh Prakash, MD NHM –UP, DG Health UP, DG Medical Education and Trainings UP in June 2016.In this meeting it was decided that BPNI should send a formal request to the Director General, UP Nutrition Mission for a formal collaboration.
BPNI has written to Mr. Kamran Rizvi, Director UP Nutirion Mission for a formal collaboration and awaiting his response.If this collaboration materializes BPNI's training course for middle level trainers and field level trainers could be included in their state IYCF promotion plans; this partnership would be a stepping stone in achieving our target of creating 2000 breastfeeding counselors in India. Hopefully in our next report we will be able to share some interesting training stories from grassroot.
Thank You !!
Warm Regards,
BPNI
Links: