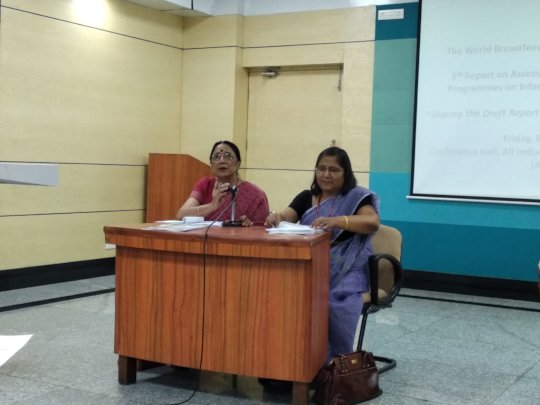 Dear Donors,
Greeting from BPNI!
BPNI every 3-5 years conduct Wolrd Breastfeeding Trends Initiative (WBTi) assessment for India.
In 2004 BPNI launched the World Breastfeeding Trends Initiative (WBTi) for assessing policies and programmes on IYCF based on WHO's tool and developed web software and a system to objectively score and color code the achievements.
Furthermore, WBTi has an inbuilt process to build consensus among multi-sector concerned partners and repeat assessments every three to 5 years. It has been launched in more than 100 countries by now 96 countries have finished reporting. This time it is the 5th round in progress to assess its policy and programmes in India by the core group members i.e. BPNI, Public Health Resource Network (PHRN), WHO, UNICEF, AIIMS, Sitaram Bhartia Hospital and Medical Research Centre, NIPCCD, Institute of Home Economics, Doctors for You and Lady Hardinge Medical College.
The core group met and analyzed WBTi's 10 indicators of policy and programmes and 5 indicators of IYCF practices
This year BPNI is conducting India's 5th WBTi assessment. On 8th June 2018 BPNI along with 17 development partners did a consensus building meeting for sharing the draft findings of the assessment.
This assessment will serve as an advocacy tool for development professionals, breastfeeding advocates, health professionals to pitch policy and programmes gaps and recommendation to bring changes in the existing policy scenario on infanta and young child feeding.
The report of the assessment will be launched in the first week of August where key policymakers from relevant ministries will be invited and the report will be officially shared with them.
We will update you on the report soon!
Thank you for your generous wishes and support.
Regards,
Nupur Bidla
Manager-Communications &Campaign
BPNI