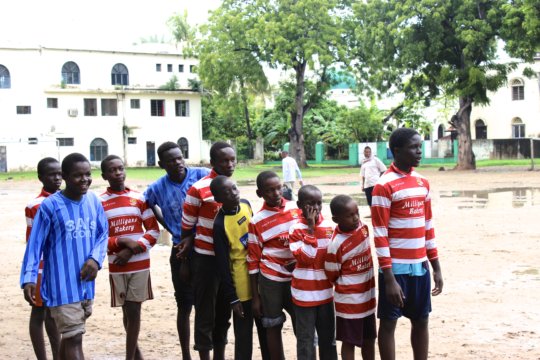 Dear friends,
I am so excited to share news of our first month of Street Soccer Programme. Despite fewer session than usual due to reopening after Christmas, Street Soccer has created Safe Spaces for 75 children and young people living on the streets. Due to your support we have created 20 hours of respite in this Programme and have provided 166 hot meals and delivered 18 first aid treatments.
This month we were also able to engage 9 new children and young people. That means that becuase of your support we were able to ensure that nine young people now have the support of an adult that they trust, an adult that they can turn to for support, guidance and love. Something most young people on the streets lack. These nine young people (as well as the other 66) now have space for respite from the chaos of their daily life on the streets - time where they can feel safe and just have fun... Now, isn't that special?
I am off to Kenya on Tuesday and can't wait to share some of our stories of Street Soccer and the difference your support is making. Until then, on behalf of all of us at Glad's House - thank you! Thank you for believing in us and more importantly, in our children and young people. Thank you for fighting for them when so many others don't.
With very best wishes from all of us.
Vicky
Dear friends,
It's that time of year where we begin to reflect on the year, and what a year it has been! Our Advocacy Team have acheived so much over the past years - none of which would have been possible without YOU, our wonderful supporters.
This year our Advocacy Team have supported over 600 children and young people in Juvenile Prisons, all thanks to you. That's over 600 children and young people who are happier, healthier and safer. These children and young people now have an adult that they can trust and turn too when life is incredibly challenging for them.
On a recent visit to the Juvenile Remand Home I was so moved by the managers feedback - he told me he felt that Glad's House was the only organisation that was fighting to improve conditions for the children and young people in prisons. We wouldn't be able to fight for these children and young people and their futures without your support - so from all of us - Glad's House staff, Government staff and, most importantly, the children and young people - THANK YOU!
We are delighted to share with you that through our new friends at Be One Percent we are currently in the process of building a library in the Juvenile Remand Home. This will mean that every child will not only be able to read books but will also have access to a safe space with trusted adults and space to talk about issues troubling them.
Next year we have even bigger goals for our work in the Juvenile Justice System and plan to work harder than ever to challenge the current criminalisation of homeless children.
We know, like us, you believe that children should never be placed in prison for the 'crime' of being homeless and we hope in 2017 you'll continue with us on our journey to ensuring every homeless child is treated lwith the dignity and respect they deserve.
With very best wishes
Vicky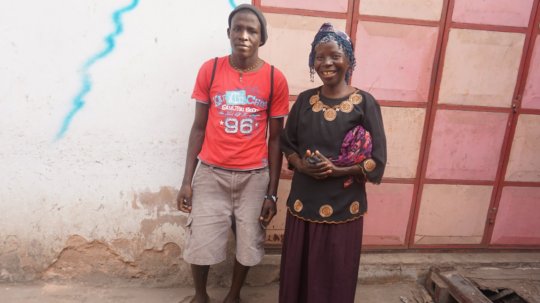 To our wonderful supporters,
Today, I am writing my final Global Giving update for our Boys Programme as this programme is coming to an end. We will be taking some time to review and redevelop our work with young men on the streets before relaunching in early 2017.
I want to take this opportunity to celebrate the achievements of this programme and the incredible young men we are able to support because of your generosity and belief in the work we do. Since we launched our appeal in November 2015 your generosity has enabled us to support 50 homeless young men in a variety of ways. Some of these young men have returned to formal education, some have moved into independent living, others have moved back with their families, some are now working. Some young people have returned to the streets but feel more positive about their lives and are able to make positive life choices whilst homeless.
So many young people have been able to change their lives through your generosity. Young people like Simon* who is now in Form 2 of Secondary School after 5 years on the streets, or James* who after 12 years of being homeless is now working full time in a community syndicate of vehicle washers, or Ben* who is sitting for his school exams next year and after attending a training camp has now qualified for the Kenya National Youth Boxing Team. So many young men now have a brighter future because of your support. From all of us at Glad's House, THANK YOU!
Please keep an eye out on Facebook and Twitter for our new and improved Boys Programme - we are all so excited about what the future holds for this work. As you have been so important to us up until now, I hope you will continue this journey with us and our young people. If you would like any more information about our next steps please feel free to contact me on vicky@gladshouse.com
Once again, from all of us, staff and young people, thank you for your support and belief in our work - it is so appreciated by us all.
With very best wishes
Vicky
*Names have been changed for Child Protection reasons
WARNING: Javascript is currently disabled or is not available in your browser. GlobalGiving makes extensive use of Javascript and will not function properly with Javascript disabled.
Please enable Javascript
and refresh this page.