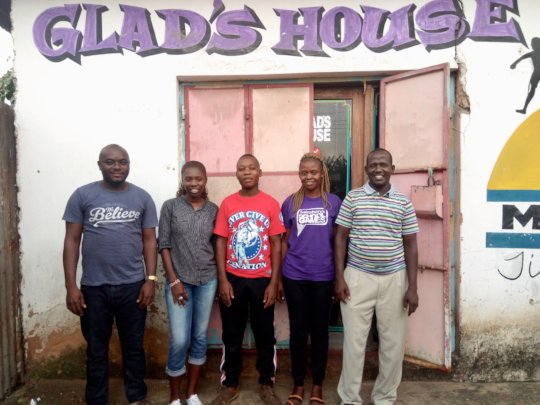 Hello from all of us!
Well, it's been another fantastic 3 months for Glad's House Outreach Team. Thanks to your support we have continued to support homeless children and young people across the City Centre and dumpsites of Mombasa every day ensuring they always have some one to talk to, access support from and generally know that someone cares.
We asked our Director, Bokey, what life as an Outreachworker is really like. He told us,
"At times it is sweet, enjoyable, fun, entertaining and full of laughter. The stories are funny, educative, informative and adventurous. Then it suddenly turns gloomy, shocking, saddening, demoralising and heart breaking. You feel like giving up but then the voice whispers in your heart... 'Who will stand up for them? Who will share their pain and sorrow? Who will visit them in prison? Who will contact their parents and let them know their sons or daughters have died on the streets or in prison? Who will organise their funerals and give them a dignified burial or send off? Who will give them at least one healthy meal? Who will give them time to play football and make them feel like children? Who will listen to them and help the realise their full potential? Who will give them hope and some little education? Who will be there for them just as a friend?'
A voice whispers in your heart, 'Wake up and go for them'. Outreach is a calling, not a job."
We had something very exciting happen in December but sadly we're not quite ready to tell the world yet but we'll be able to share everything in our next report - so look out for it in the next few months.
Until then, thanks again from all of us for your support of our work - it means so much to us all!
It's been another fantastic three months for the Outreach Team at Glad's House. We continue to deliver services in the City Centre of Mombasa every day of the week including Street Soccer, Stree Work, Mobile School and Street Education.
One 16 year old who comes to Street Soccer told us "Sometimes we get arrested while on the streets begging in order to get money for food and glue. I have [avoided] several arrests because of Street Soccer" Without your support we wouldn't be able to continue our work in the City Centre of Mombasa and ensure that children are in safe spaces and avoiding persecution and arrest.
From all of us - thank you somuch for your support!
Vicky
Papasa continues to be at the heart of the work we do at Glad's House... we want to ensure that every child and young person living and/or working on the streets and dumpsites of Mombasa, Kenya has a safe space that they feel is theirs. We are passionate about being a child and young persons trusted adult and Papasa is a great space for children and young people to engage with those safe adults. We continue to deliver education sessions, life skills, creative arts, sports and of course offering space to wash and have not one but two hearty meals.
Tom*, 13, recently told us, "When I come to Papasa I want to change my life. When they will take me from the street I will be able to learn. When I grow up I want to be a pilot."
Thanks again for all your support for our work creating spaces for children and young people in Mombasa.
Vicky
*name has been changed
WARNING: Javascript is currently disabled or is not available in your browser. GlobalGiving makes extensive use of Javascript and will not function properly with Javascript disabled.
Please enable Javascript
and refresh this page.