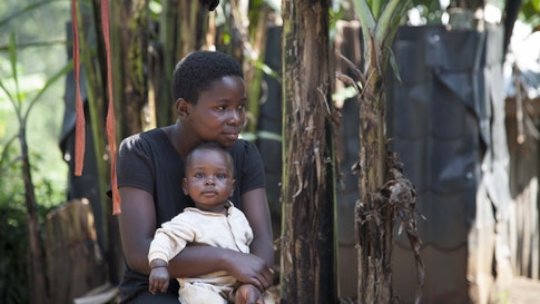 Girls' education goes beyond getting girls into school; it is also about ensuring that girls stay safe while at school and learn better values acquire knowledge and skills to compete in the labor market outside school. Every day, girls face barriers to education caused by poverty and cultural norms. Families with low incomes often force their daughters to get married to older in exchange for money or cows.
COVID-19 is having a negative impact on girls' well-being, and many are at risk of not returning to school once they reopen. School closures have cut off girls from teachers who can sound the alarm in suspected cases of abuse at home, and students have been left idle and often unattended by busy parents. We will probably see an increase in drop-out rates as teenage girls become pregnant or married. According to June statistics that the district Community Development Office presented in a meeting with UNICEF, 1,519 girls below 19 years visited a hospital for antenatal care since the Corona virus pandemic forced schools shut in March.
"There is no hope that schools will open soon, we have been at home for close to 10 months and the government is not informing us when the schools will open", says Jane (not real name). Jane was an eager student, who enjoyed physics, math, and geography and loved playing netball and volleyball with her friends. She planned to attend university to become a doctor. She was devastated when COVID-19 closed her school in mid-March, and her days blurred into a routine of doing chores and helping her mother at her job as a food vendor.
Jane is one of the many girls that have been affected by the prolonged lockdown, she is lucky that she has found what to do with her time unlike her counter parts who have been vulnerable to early marriages and teenage pregnancies. To turn the tide and protect our young girls from teen pregnancies, there is urgent need to address systemic drivers of teen pregnancies and child marriages by fully funding and consistently implementing cost-effective programs. We need to confront hard truths and realities of the issue with honesty and openness.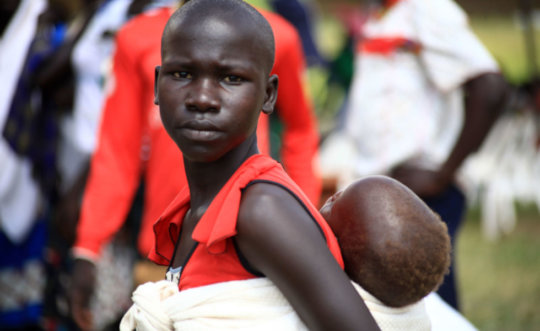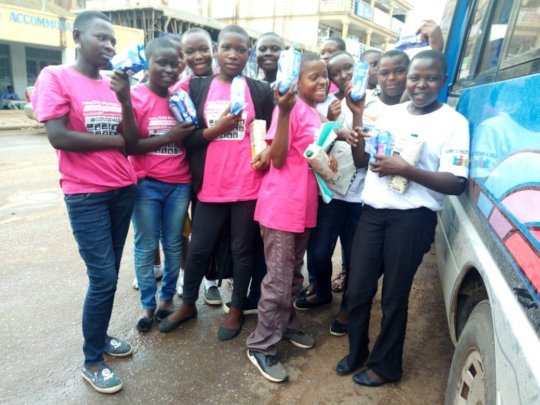 Menstruation is a subject that is often 'swept under the rug', it is just recently that it is starting to gain attention given the data on the impact it is having on the education of girls. According to UNESCO, 1 in 10 girls misses school during their period, because they do not have access to sanitary pads, and are ashamed to go to school and be ridiculed, often by their male peers.
One of our goals at Joy for children - Uganda is to ensure girls stay and excel in school, so that they can realize their dreams and provide a better future for themselves, and their families. Proper menstrual hygiene management not only allows them to live comfortably, but also makes them more confident and increases their chances of staying in school.
In Uganda and mostly in the rural areas, parents are not able to afford sanitary pads for the girls, Local shops stock sanitary pads that cost on average 5,000 Ugandan shillings ($1.50) a packet – too expensive for most of the predominantly peasant families .
Rural girls have been much affected by the pandemic because they are at home and are not accessing sanitary pads; this is because Periods don't stop during a pandemic. The impacts of COVID-19 are being seen all over the world. Meeting the critical menstrual hygiene management needs of women and girls is central to an inclusive global response that promotes equality there by realizing SDG 10 of reducing inequalities.
$1.50 can get a girl a packet of reusable sanitary pads for 6 months,$ 15 can support 10 girls with 10 packets of sanitary pads for 6 months, support our cause so that these can attend school with dignity and achieve their goals in life.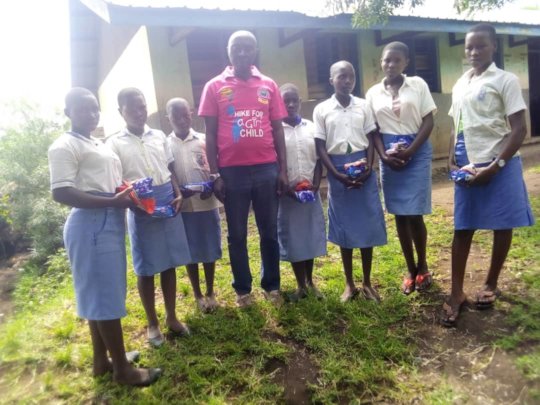 In May this year, Kasese was hit by disastrous floods. The floods started on May 7 and peaked on the morning of May 10. Another disaster followed on May 21, in areas of Mpondwe-Bwera, where flash floods and landslides further destroyed bridges and infrastructure, leading to the death of more than 10 people. There were insufficient toilets, shelters, and drinking water, as well as a lack of proper sanitation therefore, people were sick. Many suffered from water-borne skin or bacterial infections. Furthermore, people developed anxiety and stress due to their flooded environment.
As a result of the floods, many households were displaced and sought shelter from nearby schools and therefore they continue to express worry over the next course of education after several schools were washed away and yet schools have to be opened for learners in January 2021.
Flooding created a big impact on the lifestyles of the people. It affected their daily activities or work. Some of the flood victims suffered financial problems; therefore, they need extra time to pay off loans and restore flood damaged property such as farmland, houses and crops.
We are still running the campaign for restoring the lives of flood victims in Kasese district with $99,670 to go and the money donated shall be used to procure 300 standard household non-food-items to reach out to 300 most vulnerable families comprising of children, youths, women and the elderly. Each of the household will get 3 sauce pans 1 community borehole, 2 jerry cans, 3 blankets, 2 mosquito nets, and 1 tent for shelter.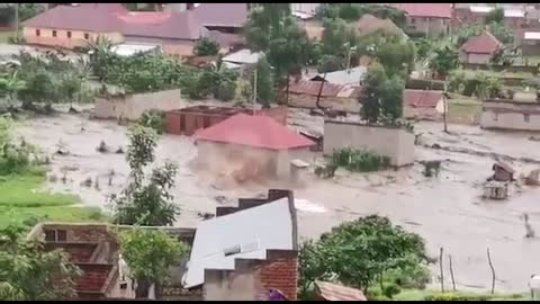 WARNING: Javascript is currently disabled or is not available in your browser. GlobalGiving makes extensive use of Javascript and will not function properly with Javascript disabled.
Please enable Javascript
and refresh this page.