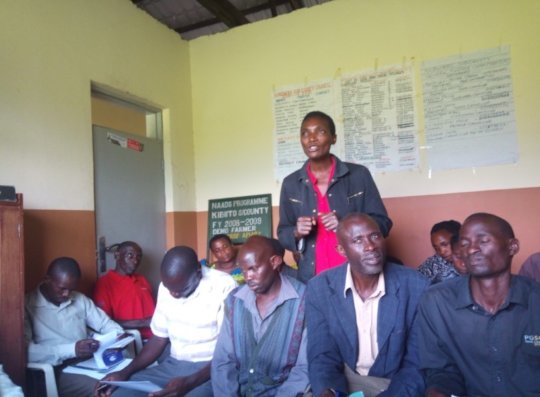 Joy For Children Uganda, through the campaign to end Violence Against Children in Kabarole District, has engaged with schools and communities to meet the set objectives for the project.
School visits have been conducted through school-based field activities with an aim of reducing school dropouts in Kabarole District. For example; at Buhara Primary School, out of the 57 dropout cases identified in December, 2018, 54 children have been able to go back to school.
Through JFCU's partnership with Kabarole District, Kichwamba Community and Vocational School has been established to cater for children from vulnerable families. This is aimed at reducing VAC, particularly early marriages by making sure that all children are kept in school. Beneficiaries of this project pay subsidised school fees of Ushs 40,000 per term. This intervention has encouraged more parents enroll their daughters for post primary education. By end of First Term, 2019, a total of 98 children had benefited.
Primary schools in the area engage in drama, music and poems to sensitise parents on child neglect, corporal punishments and any form of VAC. JFCU takes the responsibility of facilitating such activities. Performances are done on themes that have been agreed upon.
At community level, sensitizations at village levels have been carried out to empower parents with knowledge about the importance of education. JFCU has also carried out and community dialogues at village levels. By April, 2019, JFCU had reached Ibonde, Kitarasa and Katunguru to sensitize the masses on issues concerning VAC and home improvement.
In our operations, we work with local leaders so as to easily enforce the law against people that violate children's rights. Through this effort, one case of child marriage in Kisenyi, one of Fort Portal's suburbs was identified by the chairperson of the VAC committee in Kabarole district in February, 2019.
Secondly, the Local Council of South Division, Fort Portal Municipality is working with the Officer in Charge, Fort Portal Police and the school administration to enforce effective case management.
It has also been agreed upon that defilement cases should be handled by the Officer in Charge,Fort Portal Police. Survivors are introduced on PEP treatment and/or emergency pills to prevent the spread of HIV/AIDS and unwanted pregnancies respectively.
We appreciate your donation towards our project. With your continued support, we strive to create more opportunities to keep the children in uganda's rural areas in school.