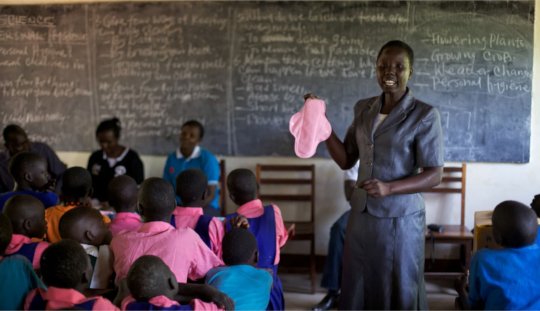 Menstrual hygiene management (MHM) is an essential aspect of hygiene for women and adolescent girls. Menstrual Hygiene Management (MHM) is defined as 'Women and adolescent girls using a clean menstrual management material to absorb or collect blood that can be changed in privacy as often as necessary for the duration of the menstruation period, using soap and water for washing the body as required, and having access to facilities to dispose of used menstrual management materials'.
we would like to appreciate our partners AFRI Pads Uganda for their continued support in training young girls in rural schools on the making of re-usable sanitary pads and donating some of the pads. 'AFRIpads is founded on the belief that if we can remove menstrual barriers for women and girls, we are one step closer to gender equality. In 2010, AFRIpads introduced the reusable sanitary pad to Sub-Saharan Africa. The aim was to overcome the key challenges that women and girls were facing whilst on their period such as access, affordability and sustainability. Since then, AFRIpads has grown to become the world's leading social enterprise manufacturing reusable sanitary pads and now works with hundreds of humanitarian and development organizations to provide a holistic menstrual health management (MHM) solution.'
When girls in rural schools experience their periods, they tend to miss school because of the stigma around menstruation and the lack of sanitary towels, It is our humble request to you our dear donors to continue supporting us on this cause so that we break this barrier, and girls can be able to attend school with dignity.
Thank you so much and may the good Lord bless you as you serve humanity.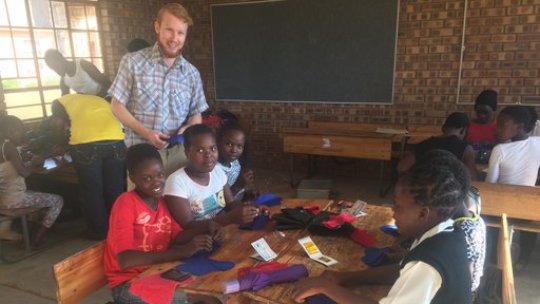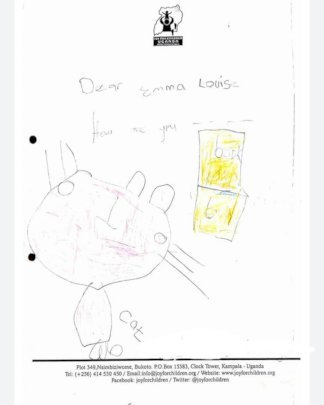 We are SO EXCITED to announce that since starting our 2020 campaign we've managed to exceed our expectations and get 21 more children to school! Children are now in school and we just calculated that through Joy for Childern Sponsorship programme, we sent 77 children to school this year which is AWESOME !
Thank you soooo much to so many of you who supported this campaign and thank you to the wonderfu Donnors who have contributed graetly to this cause to see that no child is left behind.
The children on our sppnsorship programme have been busy bees writing letters and cards to their sponsors. They are also back at school now.
As you know, we were trying to get more 20 children supported by the end of 2020 and we missed this goal by just 2 children. Do you think you could sponsor a child? $16 a month to support a childs education. To change a life! Knowing that the money is going directly to benefit the child that you are sponsoring!
2020 is going to be an amazing year!!
THANK YOU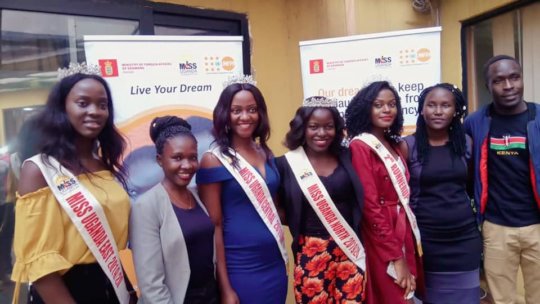 On the 13th December,Joy for Children -Uganda joined The Miss Uganda Foundation,on a National dialogue to remove barriers to young people's sexual reproductive health and rights to enable them achieve their dreams.
Major emphasis was placed on the following;
1. Guiding and talking to children that are yet to reach the puberty stage.
2. Regular parents' meetings were also emphasized.
3. Ministry of education and school heads should ensure training and equipping senior women and men teachers with counselling and guidance skills
4. Health workers should do school outreaches not only on matters regarding HIV but also other SRH rights
5. Police should ensure proper documentation, investigation, and information dissemination
6. The victim survivors should be directly involved during case investigation and should know the results of the case unless the child is too young to understand the essence and outcomes of the case/ crime made against him or her.
WARNING: Javascript is currently disabled or is not available in your browser. GlobalGiving makes extensive use of Javascript and will not function properly with Javascript disabled.
Please enable Javascript
and refresh this page.