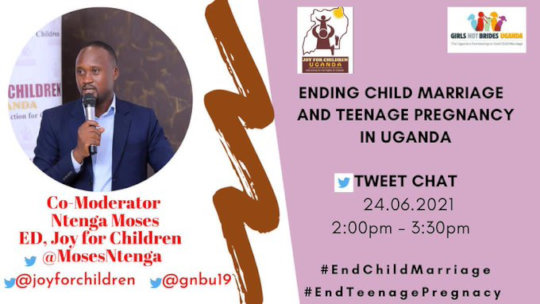 Uganda registered the first case of COVID19 in March 2020 which led to the closure of all institutions of learning. More than 15 million learners were sent home in response to manage the COVID-19 pandemic.
While Uganda has been grappling with cases of Child Marriage and Teenage Pregnancy at 35% and 25% respectively, the closure of schools and countrywide lockdown has precipitated violence against children including sexual abuse and exploitation. This has led to the surge in numbers of girls getting pregnant and those being forced into marriage. Child Marriage and Teenage Pregnancy are violations of children's rights and expose them to unwanted pregnancies, health complications during delivery, risks of acquiring sexually transmitted diseases including HIV, interruptions in their educational progress, further precipitating the vicious cycle of poverty.
With a new lockdown in Uganda for more than 42 days, many girls are at risk of sexual abuse that might result into pregnancy and marriage. We need to take action; mobilize citizens to ask the government to prevent and respond to cases of Child Marriage and Teenage Pregnancy in Uganda. We also need to call upon the private sector, civil society organizations and all people of good will to take action to prevent abuse of girls.
It's against this background, that we organized an online campaign dubbed tweet chat to End Child Marriage and Teenage Pregnancy in Uganda on Thursday 24.06.2021, 2:00pm to 3:30pm. The momentum will be sustained throughout the lockdown and leading into the 16 Days of Activism against Gender Based Violence and the National Girl Summit in November 2021.
Goal: Uganda without Child Marriage and Teenage Pregnancy
Objectives:
Objective 1: Raise awareness about extent and impact of Child Marriage and Teenage Pregnancy in Uganda.
Objective: 2: National and local leaders mobilized and taking action against child marriage and teenage pregnancies.
Objective 3: Programs and project in place to prevent child marriage and teenage pregnancy and supporting teenage mothers and married girls.
We had a set of questions in regards to Child Marriage and Teenage Pregnacy and below are some of the responses we gathered.
What are the triggers or drivers of Child Marriage and Teenage Pregnancies in your community?
Poverty: Poverty has been reported to fuel the prevalence of child marriage in many communities in Uganda where the girl may be conserved as an economic an asset from which families can gain wealth (Rubin et al. 2009, Lubaale 2013).
personal beliefs and practices that promote and perpetuate the practice of child marriage.
High levels of illiteracy among both families.
Political and financial reasons.
Cultural practices like Female Genital Mutilation like Labia elongating among the Baganda girls which impliedly communicate to young girls that they are ready for marriage hence the increasing numbers on early sex debut among adolescent girls.
2.Who is most at risk of child marriage and teenage pregnancy in Uganda?

Girls / children from poor/ vulnerable household .
Girls / children that are out of school
Girls / children leaving in humanitarian or emergency situations eg refugees and refugees hosting communities
Girls from communities where Female genital mutilation is practiced – for example sebei region in eastern Uganda
Girls in one roomed homes that overhear their parents/guardians having sex in the night. This exposure predisposes them.
3. What laws and policies exist in Uganda against child marriage and teenage pregnancy and how effective have they been?
Articles 31(1) and 34 (4) of the Constitution prohibit child marriage and obligate parents to care for and bring up their children respectively
The right to family and marriage is provided for in the Uganda 1995 Constitution with the age of consent (minimum legal age for marriage) set at 18 years for both males and females (Republic of Uganda, 1995)
The Uganda Constitution (1995) sets the age of marriage at 18 years
The Children Act, Cap. 59 and the Penal Code Act Cap. 120, all contain specific provisions aimed at protecting the girl child against sexual offences including rape, defilement, and child marriage, both within the community and the family setting
Uganda has also ratified a number of International Conventions aimed at the protection against human rights abuse and child marriage of the girl child including;
the Universal Declaration of Human Rights;
the Convention on the Rights of the Child;
the Convention on the Elimination of All Forms of Discrimination
Against Women;
the Protocol to the African Charter on Human and People's
Rights on the Rights of women in Africa;
the Maputo Plan of Action; and
The International Convention on Economic Social and Cultural
Rights;
Policies
1. National strategy to end child marriage.
2. The National Framework for Adolescent Girls In Uganda.
3. The multi sectoral communication for development strategy for adolescent Girls in Uganda.
4.The National Sexuality Education Framework.
4. What can be done to protect Girls against Child marriage and teenage pregnancies during lockdown?
Sensitize Children about their rights considering that many of them hardly know that it's against the law to be lured into marriage against their will regardless of who has pushed for or orchestrated the marriage.
Since many child marriages are reported to be orchestrated by relatives, parents/guardians/relatives should be involved at the forefront of fighting against the vice, teach them about the dangers of child marriages and teenage pregnancies.
With comprehensive efforts of all key stakeholders,we strongly beleive the evil vice of Teenage preganacy and Child Marriage can be put on an end.