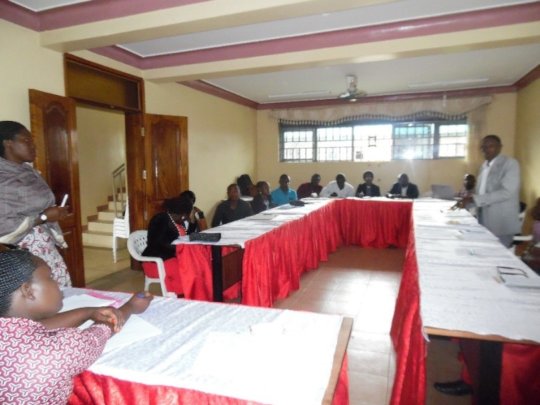 It's amazing what local leaders can do in the campaign to end child marriages in our communities. Joy For Children Uganda was blessed to engage local leaders from the sub counties of Hakibaale, Buheesi, Kibiito, Ruteete, Mugusu and the South Division of Fort Portal Munincipality. Among the local leaders were; police officers, Community Development Officers, Local Council leaders, probation officers, child protection committe members, health assistants, religious and opinion leaders, senior men and women teachers, sub county leaders and district counselors.
In one of the meetings, the local leaders identified intervention mechanisms and structures that address child marriages and teenage pregnancies, the common social injustices in Kabarole. The local leaders identified the Community development officer, Chairperson and Vice chairperson Local council 1, child protection committees at both village and subcounty level and police to form the structure that would spearhead the campaign because of the influence they have in communities. Having identified the structure, the local leaders also proposed that there should be sensitization of parents on parenting skills and tasking police to handle cases of child marriage in line with legal provisions, setting by laws at sub county level, empowering girls in life skills and economic empowerment at household level as intervations in the campaign to end the identified social injustices.
The local leaders committed themselves to identify needy families so they can take the responsibility to link them to the available opportunities and refer them for services because poverty had been identified as one of the major causes of child marriages.
The local leaders, together with our staff, made the action plan where some of the activities like sensitization at village level, radio programs, outreaches to churches and schools were identified and planned for.
The sub county leadership pledged to monitor schools regulary as one of the ways of identifying their needs. This would help address issues of poor class room structures and lack of washrooms
in their strategic plans and budgets. In an effort to implement what had been agreed upon, Ruteete subcounty lobbied from the District two washrooms for girls at Ruteete secondary school. Washrooms help promote menstrual hygiene among teenage girls which if not well handled, can lead to girls' dropping out of school.
Finally, the local leaders committed themselves to innact a by – law to Levy heavy tax on the marijuana gardens and the individual people who trade in it. This was reached at as an intervantion to reduce on drug abuse since it is one of the causes of defilement leads to early marriages.