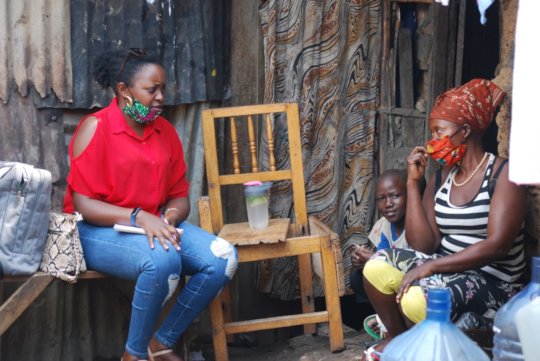 Uganda is still under a national wide lock down on some sectors like eductaion and transport,this has had it major impacts on the lives of people especially the women and children,some have lost their jobs,families have been broken and young girls defiled.When we carried out home visits,we talked to some of the women in thecommunity and these are some of their stories in this report.
Meet Betty(not real name) she is a single mother of 10 children,her husband abandoned her and married another wife but while befor with her,she used to work a forest reserve on government land in Kyankwanzi in the western part of the country but they were later evicted from the land and that is how she ended in the slums. She was lucky enough that the SDA church offered her a room to stay in temporarily.
Before the pandemic,Betty(not real name) used to wash dishes and clean at a neary by school where she could earn some income and feed her family but that has changed since schools were closed in march,as a result of this she is left with little or no income to feed her household anymore,the children pick food from markets and garbage pits,some of the government releif food that was distributed was poor qaulity so some households in the neighbourhood would donate it to themand that is how she managed to survive for some days.She is also worried on where to go incase she is evicted because they are occupying government land,however,she is grateful to the donors and Joy for children Uganda for thr releif food was donated to them when the counrty was still under a total lockdown and her children are healthy exept for her daughter who has chronic athma. "if given the opportunity,I would like to start a hardware business because that is where I have expertise" she told our field officer.
Annet (not real name) is also a single mother of 3 who lives in Mulago,she thanks the donors so much for the kind gestures rendered to them,she says during the total lockdown,women were worried,no jobs,no markets,no transport and most of them tapped into their savings. Before the pandemic,families used to have the basic needs,have three meals a day but now they only feed once and the meals are not even balanced.Pregnant women were neglected,increased infant mortality rates,high transport costs and long distance to hospitals and the governent food which was distributed was not fit for human consuption.Business has been slow on her side but she appreciates the support from Joy for children and the donors,she is atailor and trins other women in the community to the same,she says,if given the opportunity and enough capital,Annet wishes to start a school where she can train young girls in hands on skills like tailoring.
We are still fundarising to feed the children and women in these hard times and the gap is still huge,please support our cause.