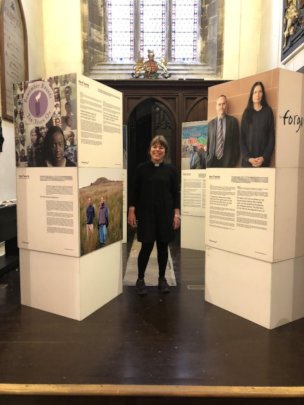 As the summer draws to a close, we are looking forward to the winter ahead where the exhibition will be visiting Guildford and Gloucestershire.
In September The F Word visited St Peter's Church in Dorchester for a week exploring forgiveness. Claire, who hosted the exhibition, told us how The F Word started conversations with those who saw it:
"The F word exhibition really stimulated thought and discussion - it was great to see so many people from all backgrounds engaging with the issues it raises….The stories were so moving and quite often we found people close to tears and glad to talk about how they felt. It encompasses the very worst and most beautiful aspects of human nature and ultimately these are stories of hope."
During the week, around 700 people visited the exhibition:
"How brave (and evidently liberating) to be able to let go of hate and anger. I hope I would be able to do so."

"Everyone should see this. It's the only way forward."

"A powerful exhibition on forgiveness and in a way, self-love and healing ......"
"So many powerful stories. Almost unbearable. Forgiveness is the only hope. Love is the light in the darkness."
November is a busy month for The F Word! Between 1st - 7th November the exhibition will be visiting Burpham Church in Guildford for a week of events and the opportunity to hear the personal story of forgiveness from the survivor of a concentration camp.
The exhibition will then be travelling on to the University of Gloucestershire – come along to Park Campus, University of Gloucestershire on Wednesday 14th November for an interfaith event where you can view the exhibition.
For updates and details of future hires please visit our website and follow us on Facebook and Twitter.