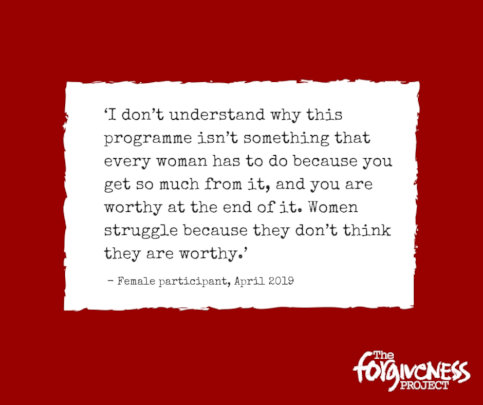 Since our last report we have started working in a unit which specifically supports women with mental illnesses. At the end of April we delivered our first programme following a request made to unit staff from a woman who had previously participated in RESTORE as she had found it so helpful in her journey.
"Before RESTORE I had not attended any programmes as I didn't feel confident and couldn't take things in. Since RESTORE I came off methadone, was transferred from Res 6 (general prison population) to Res 10 (Unit for women with personality disorders) and have been constantly working on myself, attending therapy, music therapy and speaking now where before I didn't speak.
RESTORE switched the light on in my head, coming made me realise I had to face my fears, deal with my problems, and before I let my fears control me and now I control them - I deal with everything, personally, physically, mentally and emotionally. In the past I blamed myself, I felt guilt and now I feel love. I'd never thought of it logically, I wrote it all down… I understand now, I never understood, and I feel strong enough to go out in the world."
RESTORE Programme Manager, Sandra Barefoot, who facilitated the programme, found it powerful to experience RESTORE with the women.

"To be alongside these women, whose trauma is so complicated and huge, and witness their desire to find ways to understand and share their experiences is a testament to the strength we have as human beings. We are the owners of our stories and yet often we do not realise this - especially women in prison. Through RESTORE each woman found the multiple threads of their lives, weaving these through colours and shapes, and speaking their experiences in their own words, taking back control of their narratives."
Thank you so much for supporting this project! Could we ask you one more thing? Please share this report with a friend, colleague or family member and help bring awareness to this project so that we can continue supporting some of the most marginalised women in our society. Thank you.