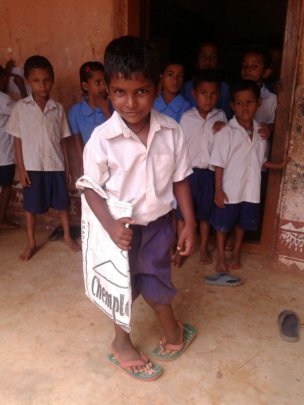 Dear Supporter,
You already might know that Aaina was recently promoted to a Super Star position at Global Giving Platform . A monitoring team from Global Giving visited Aaina and was very pleased to witness the project progress and the changes in the field that has been created using funds from Global Giving . This would not have been possible without your continuous support e have so far received $ 11010 from Global Giving.
The funds have been specifically utilized towards provision of special aids to children with disability, travel allowance, addition of books for children with disability in library, organizing inclusive activities and capacity building trainings to special teachers. The cumulative effect is significant increase in enrollment and retention of children with disability in school. We are excited to inform you that now at least 600 children with disability are enrolled and retained in schools in the districts of intervention. It is especially motivating because many of the children are from remote villages and belong to underprivileged families where going to school for a child with disability remains a dream for parents. One of the beneficiaries, a 6 year old boy Prakash Patra having physical disability comments "Recently I received a pair of slippers from the funds raised in Global Giving. The slippers were modified as per my needs. Now I wear these and can walk much easily. I go to school everyday. I also received Banishree scholarship of Rs 2000 for 1 year. Now I am happy along with my friends."
Further funds will be utilized to target most vulnerable children enabling them to access education such as providing capacity building training to special educators so that they can handle the children in school, provide necessary therapy to children to improve their functional ability and provide apt study materials to children with special needs. You all have been a big support towards this project and our inspiration to keep moving ahead.
Thank you So Much for being a vital part of this project . We also request you as always to share the project with your freinds as together we can do it much more effectively.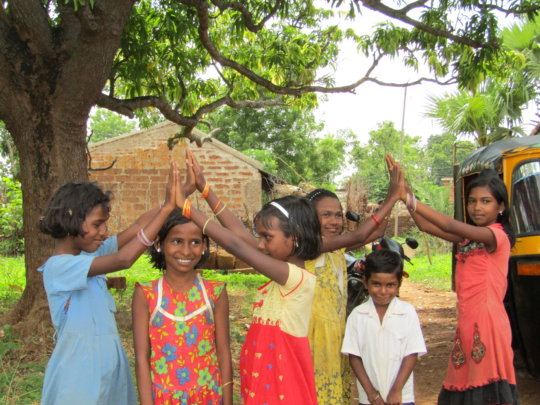 Welcome to the friend's zone!!
From a life of no friend and solitude to a life of full of friend, school, study and big fun is the journey of Soham. Three years back he was all alone home without any friends, totally dependent on parents for his daily living skills like eating, dressing etc! Soham an eight year old child with cerebral palsy (hemiplegic) from a remoite village of Kandhamal village of Odisha, India. Kandhamal is a scheduled districts having more than 50% tribal population in the district. Due to Cerebral Palsy Soham can not use his right hand and legs properly. His facial muscles also affected to prevent him from speaking things clearly and also not being able to control his drooling. His parents never thought Soham can be in School and can be with other children of his age! The community volunteers identified Soham and spoke to the School teachers and managed to get him admitted in the School. The volunteers not only spoke to the teacher but also prepare the children of that village to get Soham join their children club (promoted by Aaina). The wall of hesitation started breaking and soon they became good friend of Soham. Helping him going to School or even in study all these spheres are full of friends now. "This motivated him to take up his daily chores like dressing, eating independently and moreover reducing his problem behavior like, throwing tantrums"- said Rekha mother of Soham. The volunteers from Aaina also helped him in bridging the study gap with the extra input to put him in class two to which Soham cooperated. Book became his friend and Soham started liking book going to School very much. Now after three years he is in class-5 and doing very well in his study. His slurring speech is no more a point of joke for his friends but there is a competition among friends as to who can understand Soham faster! His parents are happy on his progress.
The Superstars of Aaina are the children those provided a space for Soham and in turn Soham filled in that space to be in mainstream. THANK YOU donors for being so supportive to make us a 'Superstar'. These small but very important changes in the society only becoming possible for the real 'Superstars' in the field like Soham and others…
Soham says it all…. I may not be able to walk sown to School but my friends gave me courage. Earlier Basant sir used to come to accompany us to School but slowly it was taken over my friends and I am quite comfortable with them now. Going to School is such a fun…I love my books…love to listen to my teachers teaching the lessons, except English! But I love to be with my friends….Paltu and Ramesh are so funny! Kuni is very helpful; sometimes she carries my bags to School. She advised me to keep a hanky to wipe the drools and I liked it! Earlier the therapist sir told me to do some exercise but I did not want to do it but now I am doing it regularly as I need to keep myself fit enough to go to School and also to be accepted by my friends! I wanted to play football one day like Ramesh, Paltu and others!
I like my school teacher, she is very helpful and talks to me nicely. I also wanted to participate in prayer so what if I can't sing the prayer loud and clear but God listens to the silent prayer even as told by my father! I pray God to help me grow so that I can take care of my parents in future…!
Attachments: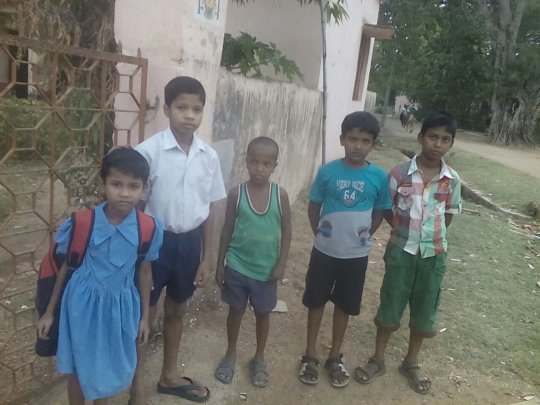 A big thanks to our dear donors this quarter!!! We have been able to enroll 26 children in school through your generous support! Prabesh Utsav was a special enrollment drive and community mobilization initiative in April. Aaina joined the initiative as well to create awareness among parents of children with disability on education and facilitating children's enrollment in school. The sensitization took place in two blocks namely Kamkhyangar and Kanknahad. It involved home visits in 60 houses and making parents realize the importance of primary education for their children, not only as their academic rights but also for their overall development. Parents of children with disability, parents of drop out children and non school going children were the main targets. <amy pf the parents did not send their children to school as they either lacked motivation or they believed that they do not have proper documents. The parents were informed that their children could join school under RTE even if they did not have any birth certificate or previous academic record.
For self esteem and retention of children with disability in school, teachers training were organized on how to treat children with severe disability and multiple disabilities in mainstream classroom. Peer group sensitization towards disabled peer groups was provided as well. Children were made understand the specific needs of their peers with disability and how they can contribute in their development and avoid using derogatory remarks towards them.Training to Block Education Officer (BEO) and Cluster Resource Center Coordinator (CRCC) were provided on
Accessible classrooms
Accessible play materials
Accessible toilets
Accessible TLM
The programs had a very positive effect and in total 26 new admissions were made in school!!! The Global Giving funds have been used towards organizing the program, home visits, trainings and for paying salary to 6 teachers for children with disability. An effort is also being made for home based education to the parents of children with disability.
Your donations have truly helped us in reaching out to the maximum numbers of children with disability and their enrollment in schools. It's your project now and we will be more than happy to provide you any specific information and feedback form children if you desire. More programs like these are required to maximize our potential and see every child with disability enrolled in school studying with self respect and confidence. As such we encourage you to spread the word around among your good friends and share the project through email and other social media that is feasible. Your support is invaluable. So thanks once again.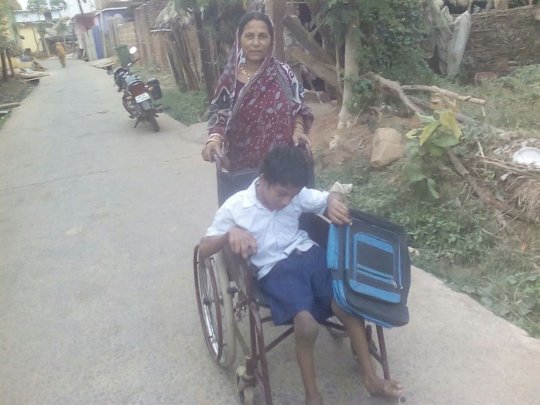 WARNING: Javascript is currently disabled or is not available in your browser. GlobalGiving makes extensive use of Javascript and will not function properly with Javascript disabled.
Please enable Javascript
and refresh this page.