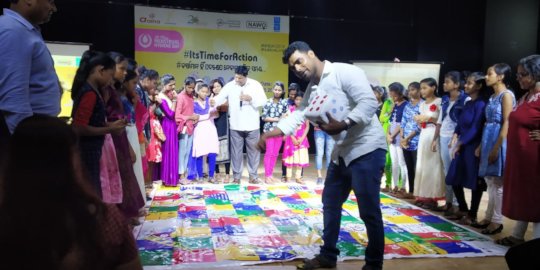 Early Child Marriage is undoubtedly the worst crime that is committed on a mass scale. In many communities, we work with, the ideal age, at which girls are married off, is actually the age from which she starts menstruation. As per a baseline survey conducted by Aaina, in Bellaguntha, Bhanjanagar and Chatrapur block of Ganjam district of Odisha, we found out that about 6 % of school teachers and 20 % of caregivers actually believe that menarche is the biological indication of as girl being ready for marriage and child bearing.
Aaina therefore believes that menstrual myths, like these are a major reason for child marriage. Also, being a least discussed and associated with shame and impurity, Menstruation is one of the most misunderstood phenomena, not because, there are no scientific explanation to it but because it is not allowed to be discussed on any platform. The unnecessary secrecy and hiding results in tons of myths and unethical practices surrounding it. The mere biological process has been transformed into a biggest tragedy and nightmare for young girls.
Post Fani, Aaina has been rigorously involved in Health, sanitation and personal hygiene of the affected communities. On 28th May, The Global MHM day, Aaina decided to observe the occasion with adolescent girls from slums, throughout Bhubaneswar. The Program was designed to discuss the undiscussed and challenge the myths and malpractices through a rather innovative method.
We let them play a life size Snake and ladder game that was tailor made to address major myths and malpractices. The players threw the dice and took the steps on the chart with myths and facts, imprinted in the boxes of the chart as messages. For every myth, they encountered, they would take two steps back. We saw much enthusiasm among the players and our audience.
We plan to take this exercise to other districts, like Ganjam and Puri and involve more adolescent girls and adults.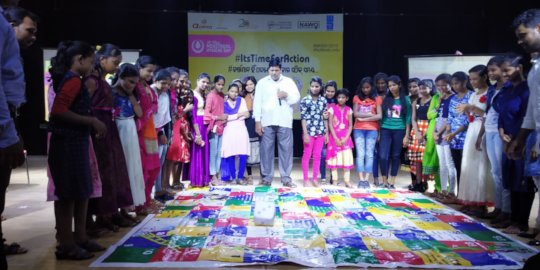 Links: