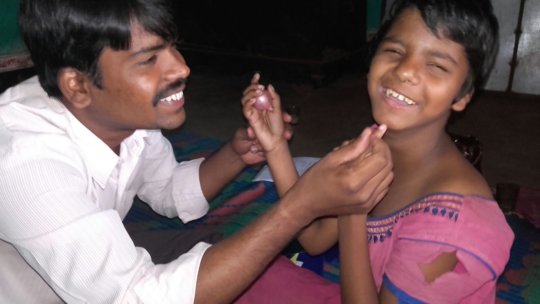 Aaina was able to raise 445 Dollars this quarter for the project on Inclusive Education! Special thanks to our recurring donor's and generous donors on Dec 31!! Please keep up the festive mood going as it means a lot to the most underprivileged! Along with efforts of aaina in mainstreaming of children with disability, special focus is being given to mainstreaming and independence of children who are blind and deaf. Inability of children in both sight and hearing at the same time puts them in extreme isolation requiring special efforts to bring them into mainstream.
Aaina utilized the raised funds to identify deaf and blind children and children with multiple disability in its project area in Kamkhyanagar and start with the basic therapy required to first improve their communication skills Arrangements were made for visits by special educator to 2 resource Centers of Aaina and for home visits to 5 children with multiple disability .
Can you all imagine the state of Deaf and Blind children in remote villages where parents of the children are illiterate? Parents and relatives of many of these children are clueless on steps to take and only curse their fate.. They assume dependency of the children and not even make efforts for their development.
The special educator upon her visit interacted parents of the children to first assure that these children can improve provided the right efforts are made. She also interacted with the teachers of the resource center and encouraged them to involve children in some activity instead of providing direct therapy to improve their mobility. For examples one of the children Karishma used to feel uneasy whenever the therapist came as she was tired of same exercises. It was advised to play with ball isteadand engage with in other activates that will automatically improve her motor skills as well.
Another 14 year old girl Bismita Barik with multiple disabilities goes to school rarely as she is mostly in lateral position. A specially designed wheel chair that ,ay be reclined was advised by the special educator . Using that chair Karishma can go to school more frequently. Few children are not even werecapable of maintaining personal hygiene and need to be trained on that first.
The special educator maintained her patience with children and provided valuable advice to the parents of children with disability and the teachers at resource center. This is just a beginning and repeated efforts will have to be made to bring significant improvement in these children and raise their confidence to go to school.
Though the progress in these children will take time but the beginning has been made!! Every single improvement in these children not only raises moral of the child and her parents but of other parents in community who have children with similar disability. We truly thank each and every donor who are a part of this initiative and who help us to showcase that nothing is impossible. We expect continued support and new ideas from your side as well to make our Inclusive Education project a greeter success. Please don't think twice before giving any suggestion towards this project and share the project with your friends who care.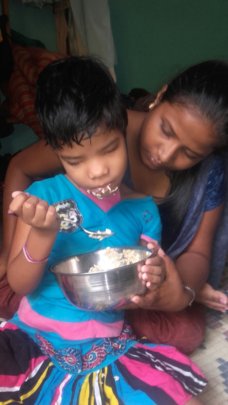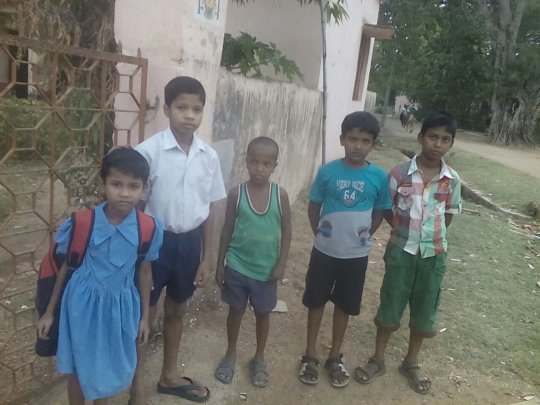 Skill development of school going children with disability has been one of the major efforts in this quarter. Painting session was organized for 15 children in the project area where children showcased their artistic talents. Funds from Global Giving were used to buy required different materials for painting. Children enjoyed using vibrant colors and participated enthusiastically. Besides painting, sports and games were organized that helped children with disability improve their confidence and contributed towards their social skills. Different activities organized not only contributed towards developing different skills of children but also motivate them to attend school regularly.
Participation of children with disability in "We Care Film Fest "on October 7th and 8th was yet another major activity promoting their inclusion. We Care Film Fest is a state level event organized by aaina every year to spread awareness on disability and spread message of inclusion through the medium of short movies. Children with disability from our project area were the special audience of the festival. Besides short movies, Panel discussion on disability related topics were organized such as " Mainstream Cinema and Portrayal of Disability" and "Smart city Bhubneswar & People with Disability". Here children with disability had an opportunity to interact with state level authorities on related issues. Oct 7 was a World Cerebral Palsy Day as well where children with disability participated enthusiastically in a rally with placards demanding their rights and spreading awareness about Cerebral Palsy. Their participation in the event gives them a unique exposure to diversity; they can empathize with disability issues and grow as human beings. Funds raised from GG were used towards the transportation and food cost for 50 of these children during the We Care Film Fest.
Thank you so much for your support as we have been able to add quality in the lives of children through your donations! We hope continuation of your support and encourage you all to spread the word around. We also look forward for your feedback and specific ideas you have towards academic growth and inclusion of children with disability.
It's 1 year! We complete 1 year of our project, Send 1000 Kids with Disability to School in India. Thanks to all of you who have been a part of it through your kind donations! We have been able to raise $7066 so far, and the change we seek has initiated. Through your kind donations aaina has been able to,
Send 300 children with disability using local transportation
Conduct 3 inclusive events for 1000 children
Provide study materials to 300 children
Provide honorarium to 25 volunteers for implementing the project
Add games and books in the library that can be used by children with disability
Provide Capacity Building Training to teachers and volunteers
The biggest change however is that going to school is not a dream anymore for children with disability in many villages of Odisha. By experiencing quality education, timely transportation facilities, aids and appliances, and above all understanding among teachers, parents of children with disability are encouraged to send their children to school. They have started gaining the much needed trust that their child will be benefited and will progress through regular attendance to school. Teachers too, through counseling and capacity development trainings are more willing and confident to accept children with disability in schools. Is not that a breakthrough! Congratulations to all of us for that!
It should be noted however that there has been a gradual decline in donations for the Inclusive Education project. In this quarter, we received $195 which is much below the average donations we receive every quarter. Nonetheless, the money was well spent. It was utilized towards conducting Assistive Devices Training to make aids and appliances for children with disability using resources available at home or within community. Three parallel bars and 1 set of special shoes were prepared. A 3 years old girl Karishma was excited to use parallel bars as she could walk independently. "She has been practicing using these bars to move around. With time, it seems much easier and she will be able to go to school using them", says Karishma's mother. The money was also utilized towards organizing physic therapy for children with Cerebral Palsy. The therapy is helping children in improving their motor skills.
Dear friends, thank you so much for being a part of this journey. We have been able to make the initial impact well. To make this project a complete success however, we need to meet few basic requirements. Still 175 children with disability need to be provided with aids and appliances and travel allowance needs to be paid to more than 100 children. Though many children receive the same through government programs, unfortunately few are left behind as they are not able to meet the criterion. It is for those children now that we need to take initiative and make school going process easier. Along with your monitory support, we welcome your ideas to make school going process an achievable one for children with disability. We enthusiastically look forward for your inputs in that regard
WARNING: Javascript is currently disabled or is not available in your browser. GlobalGiving makes extensive use of Javascript and will not function properly with Javascript disabled.
Please enable Javascript
and refresh this page.