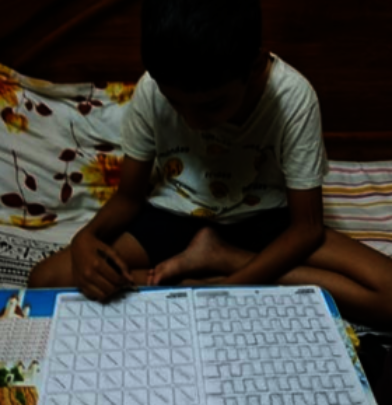 The current Covid19 pandemic that has engulfed the entire world with a death toll of above 2,00,000 and rising. India too has more than 29,771 detected cases and 934 deaths so far. Odisha has about 118 reported cases and sadly situation is becoming worse as days passes by. The National Lockdown that was about to end on 14th of April, has been extended till 3rd of May.
The lockdown has large implication on the society, not only the economic implication but Psychological too. Children are badly affected by this lockdown. They are trapped at home with no outdoor recreational activities allowed. This has an adverse affect on their Psychological development, especially for Children with disability and special needs.
The Sparsh Day care Centre of Aaina in Bhubaneswar has been in contact with the care takers of children with disability through virtual platform, e.g Video calls. We have assigned small activities including drawing and image recognition games to these children for keeping them engaged at home during lockdown. The games shall ensure psychosocial development of children at home.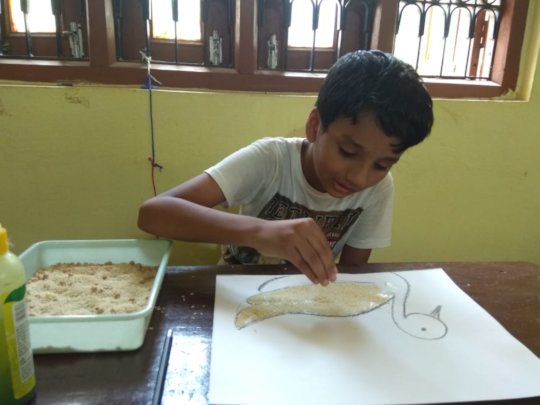 15 year old Anirudh(Name Changed), suffers from Attention Deficit Hyperactivity Disorder (ADHD). His parents initially could not diagnose his condition and thus were absolutely clueless about his attitude. They always considered him as a spoilt brat. Luckily for him, his father took him to a hospital and was able to ascertain his condition. His attention definiteness caused him to fair poorly in education and thus was removed from school.
Aaina identified him and took him under its observation. He was enrolled in State Learning Centre, Aaina, Bhubaneswar, were his treatment began. We initially tried psychosocial therapy to help him concentrate and focus in whatever task he is indulged in. We got him engaged in preacademic activities, like "Color matching, "Letter Matching", Object Matching and painting to make him able to focus and learn basic non academic skill that is prerequisite to academic learning. With our efforts and his will power, he is now able to play indoor games like chess, which was never his cup of tea. With these encouraging results, we are hopeful to enroll him in a preschool to resume his education.
We believe in bringing about, small yet a sure change.
Links: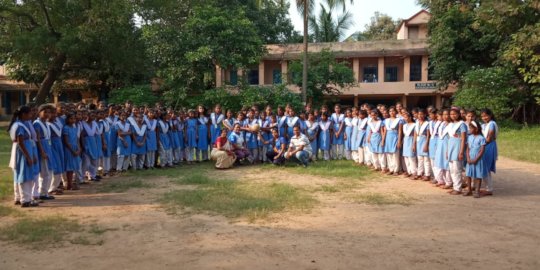 The Sports for girls campaign, that is one of our flagship effort has entered an exciting stage. We had an intra school football match. A large crowd and cheers is what, we believe shall boost the determination of our flag bearer and so did it! We have managed to form our girls football team in Bhanjanagar and are planning to have more teams from local villages. We have identified 8 interested and talented volunteers, who are recieving footbal training from our coach. These volunteers shall be our local guide who shall train more adoloscent girls and form community level football teams. The teams, so formed shall be provided with jersy and kits from Aaina and shall lead our effort to end gender discrimination and child marriage in their respective villages.
WARNING: Javascript is currently disabled or is not available in your browser. GlobalGiving makes extensive use of Javascript and will not function properly with Javascript disabled.
Please enable Javascript
and refresh this page.