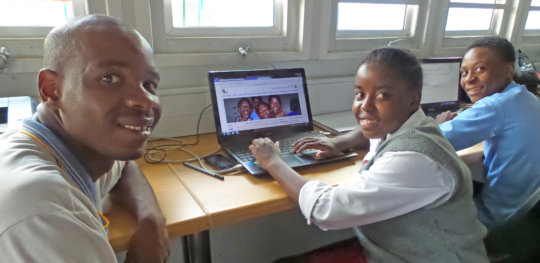 Alfred, born and raised in Alexandra Township, Johannesburg is a remarkable example of a young man taking advantage of every opportunity to improve his skills and his prospects to build a better life. Most of Alexandra's teens drop out of high school before 12th grade because, frankly, they haven't seen anyone benefit from continuing to go to school. The adults in their lives don't encourage education and so the generational cycles of poverty and violence continue. An area originally created for 70,000 residents is now believed to house four or five times that number. People move in, often from nearby countries, but rarely gather the means to move up to a better, more stable live.
In 2009 Alfred saw an opportunity and seized it: He became an Infinite Family Net Buddy to learn from an adult living somewhere else in the world. While his first Video Mentorship only lasted a year, he found a long-lasting mentoring relationship with Jennifer, who lives in the southern state of Alabama, United States. His British English accent made her laugh, her seemingly relaxed southern drawl soothed him and helped him gain perspective. For more than five years Jennifer has guided and helped Alfred find his strengths and voice. His progress was so impressive that when Infinite Family needed a new manager for the computer lab, they turned to Alfred because he was always there, always helping the younger students, and always ready to learn something new. Although he was younger than most lab managers, Infinite Family knew they could depend on Alfred to always give the role his best and to continue making the LaunchPad a more inviting place for new Alexandra students to come to learn.
And now, as of June 7, 2017, it is with great pride and joy that we announce Alfred's graduation from college with a degree in Tourism (a booming industry in SA and a wise choice!). We are already providing strong references to other potential employers and know he will be an incredible asset wherever his talents take him. We know it is our job to prepare South Africa's teens for self-reliant lives and jobs outside of the townships - this is our key measure of success and we know Alfred will go far. But we will miss him dearly, his positive attitude, his constant willingness to help whatever the task, and, most of all, his engaging smile, which brightens every day.
Thank you to Alfred and Jennifer and congratulations on the bright future you have built together.
Thank you also to our wide network of donors who support video mentoring scholarships that make each and every mentorship possible throughout each teens' critical teen years. No one can walk a teen's turbulent journey alone and just one caring adult half a world away can mean the difference between dropping out, or digging deep and working toward long-term success.
We hope you will choose Infinite Family as your grantee of choice during Global Giving's Rewards Day on July 12! Thank you.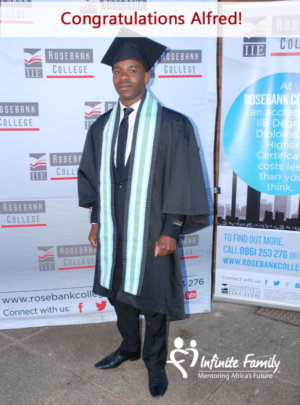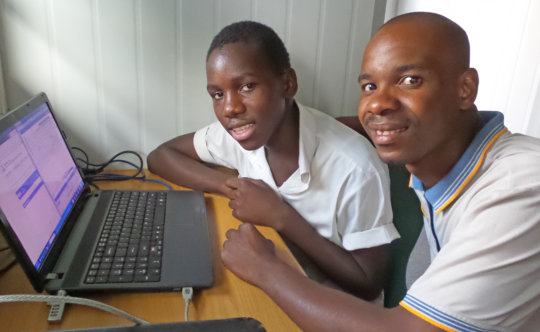 Links: